THE CALHOUN HILLS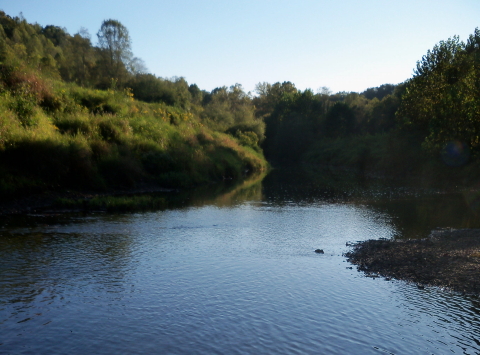 The West Fork of Little Kanawha
In autumn when leaves are turning to gold,
The dreams of my childhood memories unfold;
Painting pictures of scenes back where I was born,
The rocks and the rills so brightly adorned.
The hills were enchanting the wind in the pines,
Sang sweet little songs to the birds in the vines;
The memories has lingered with me through the years;
The place of my childhood through gladness and tears.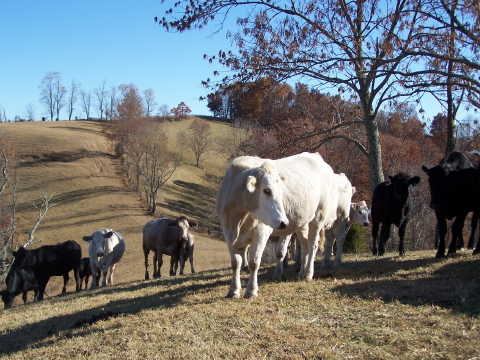 Cows grazing on high Calhoun hill
Though years have slipped by since I drifted away,
I love every bit of the memories today.
Through various places there's nothing I find;
Compared to the hills of Calhoun in my mind.
No place seems so friendly, no place seems so dear,
As the place of my childhood - the hills that are near.
Although I am happy in my surroundings today;
To the place of my childhood my thoughts often stray.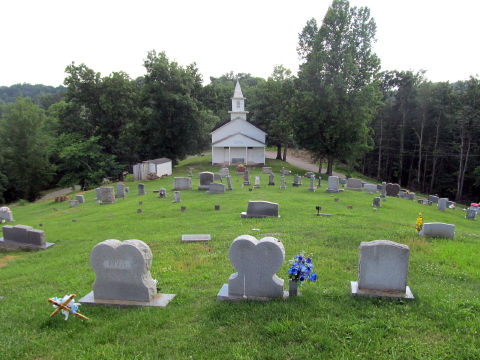 Bryner Chapel Church at Joker
And when I get real old I hope to go back,
In the hills of Calhoun and build me a shack;
When the thrill of the whippoorwill's song shall be mine;
And I'll hear the soft murmur of wind in the pine.
I'll spend my last days in rapture supreme,
In the land of my childhood, the land of my dream.
- Anonymous Calhouner 1941
(Provided by Rose Campbell)