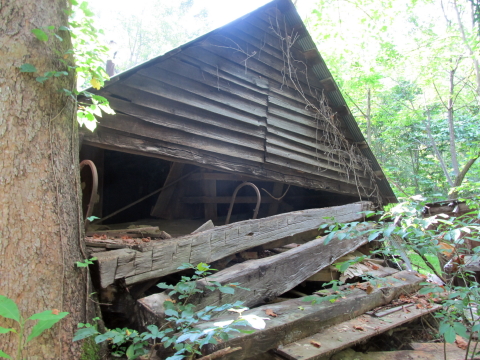 This ole two-story log house, built by early settler, in the
backwoods would have stories, now collapsed to the ground
By Bob Weaver
This ole two-story log house has crumbled to the ground, located off the ridge between Barnes Run and Sinking Springs, likely built in the 1880s or before.
Howard and Ruby Husk Craddock, who married in 1931, moved into the backwoods dwelling in an area of the county well-known for Craddock families, many of which are buried in the Gibson Cemetery at Altizer.
Howard was the son of George and Maggie Craddock, she the daughter of Everly and Belle Adams Husk.
Howard and Ruby moved from the log house to the Annamoriah in the early 1950s.
The house was then occupied by a few others needing an abode.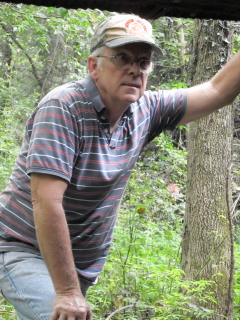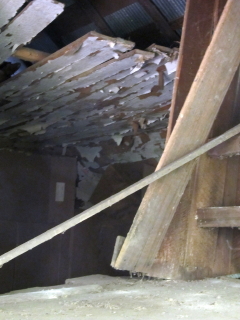 Jim Morgan, who visited the Craddocks when he was a boy,
observed the wallpapered ceilings which conserved heat
Howard was the product of a hardworking life, grubbing, cutting "filth" and farming, in addition to surviving the Great Depression. For many years he was a "hired hand" of the Hardman family and worked for the "State Road."
He was known for his frugality.
In the 1950s, his wife Ruby wanted to get a TV and Howard was reluctant, but Ruby persevered and a TV was purchased.
At the country store, Howard lamented, "I suppose we'll just watch it until we stave to death, tryin' to pay the electric bill."
Howard died in 1992 at the age of 92, and his wife Ruby Husk Craddock died in 2011 at the age of 100.
See RUBY GOES HOME AFTER 50 YEARS - Calhoun Woman Wants "Double Zeros" Next To Age
And CALHOUN WOMAN GETS HER DOUBLE ZEROS - Ruby Husk Craddock Turns 100