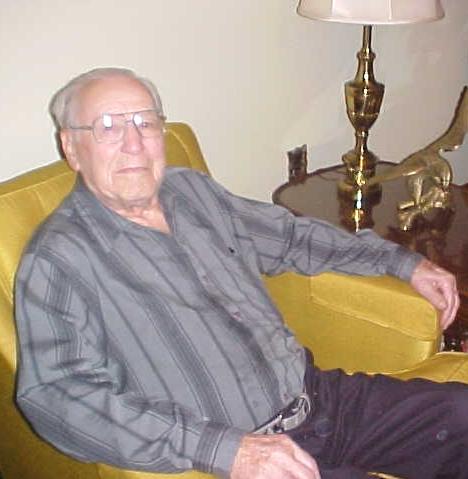 Honorary Parade Marshal for the 2002 Black Walnut Festival was 100 year-old Virgil Daughtery (pictured left).

Virgil Everette Daugherty of Spencer has died at the age of 102.

The well-known banker was just named Citizen of the Year by the Roane County Chamber of Commerce.

Daugherty attended elementary school at Pad. He attended Reedy Normal School, passed the Teachers Uniform Examination, and taught his first term of school at Stringtown in 1918.

He then went to Marshall College for a teacher's training course. While at Marshall College, the Board of Education of Elk District, Kanawha County, asked him to be the principal of the Blue Creek School (1919.)

He then returned home to assist his father on the farm. He taught the home school at Pad in 1920, then at Hamiltonia from 1921 to 1923. During these years, he was walking to Spencer each Wednesday for a night class in education.

In December of 1923, R. W. Shumaker, Superintendent of Spencer High School, asked him to get a replacement at Hamiltonia and enroll in high school and graduate with the class of 1924. The Board of Education of Walton District had just built a new four-room elementary school at Walton and hired Virgil as principal of the new school in 1924.

In June of 1928, O.R. Hardman, President of The Traders Bank of Spencer, contacted Virgil. They had lost their bookkeeper and the Board of Directors had chosen Virgil as the replacement. The Board of Education released him from his contract and he went to the bank as the new bookkeeper.

In 1942, Virgil was being drafted into the Army during World War II, but instead he enlisted in the Navy at the suggestion of some good friends. When called for duty, he was assigned to the 19th SEA BEE Battalion, and went to Camp Bradford for boot camp training. At the end of boot camp, his Battalion was assigned to the 1st Marine Division and went by the name of 3rd Battalion, 17th Marines, and served in the South Pacific Theater of World War II. He received an Honorable Discharge in June of 1945.

Virgil returned to The Traders Dank in September of 1945, to resume his duties as a banker. At the next stockholders meeting of the bank, he was promoted to Vice President, Cashier, Director and Secretary to the Executive Discount Committee, a post which he held until his retirement in January of 1974.

Virgil was treasurer of the American Red Cross for many years, also treasurer of the Roane County Republican Party for 25 or 30 years, and one time member of the Roane County Community Commission, appointed to fill the vacancy of Don Coen, who was killed in a plane crash in 1966. He served in that capacity until January of 1968.

Virgil was one of the original partners of The Rouzer Oil Company, formed in 1955. He had served as Secretary and Treasurer for the company until appointed vice president. He was also appointed by Judge McCarty as Jury Commissioner of Roane County.

Virgil was a Master Mason since 1924. He was a member of the Royal Arch Chapter-Scottish Rite, Knights Templar, and York Rite for many years.

After his retirement from the bank in 1974, Virgil and his first wife, Eura, traveled until she became ill. She died at Duke University Hospital during heart surgery in January of 1981.

Virgil continued to travel, gardening and taking one or two Canadian fishing trips with his friends each year. In September of 1988, Virgil married again to Elsie.

He was a member of the Rocky Branch Church, which his father, William H. Daugherty founded in the 1920's. He attended First Baptist Church of Spencer.

Virgil was born February 12, 1902, in Pad, W.Va., a son of the late William H. and Florence Snyder Daugherty.

He is survived by his second wife, Elsie Mace Daugherty; one sister, Hazel Phillips of Upland, Calif.; and one brother and sister-n-law, Brooks and Genevieve Daugherty of Chapel Hill, N.C.

In addition to his first wife, Eura Gandee Daugherty, he was preceded in death by four sisters, Eva Shafer, Dona Smith, Cora Phillips, and Lessie Looney; and four brothers, Roy, Wilbur, Romie, and Ancil Daugherty.

Service will be held 1 p.m. Monday at the Taylor-Vandale Funeral Home in Spencer, with the Rev. Mike King officiating. Burial will be in the Rocky Branch Cemetery near Walton.

Visiting hours will be held 4 to 8 p.m. today.

The Walton Masonic Lodge No. 150 will be pallbearers. Honorary pallbearers are George Scott, Keith Crihfield, Terry Williams, Wayne Harris, Steve Nichols, Caleb Nichols, Jim Hildreth, Don Scott, Orton Jones, C.B. Hall. John Jones, Denver Gandee, John Dye, Jim McCulty, Fred Conrad, Gary Martin, W. Conley III, Bill Daugherty, John Melton, Bob Arnott, and Larry Ellis.

The family requests that donations be made to Rocky Branch Cemetery, 189 Cunningham Lane, Walton, WV 25276 or Hospice Care, 1143 Dunbar Ave., Dunbar, WV 25064.

He was the subject of a Hur Herald story when he went to New York to appear on Live with "Regis and Kelly" in a "Hunky Husband" contest for older men. See under NEWS ARCHIVES 7/21/02.