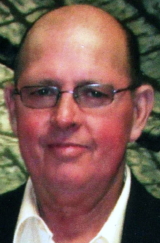 Pastor Garland A. Rhodes, age 69 years of Niles, Michigan went home to be with his Lord and Savior, Jesus Christ at 1:05 p.m. on Sunday, August 10, 2014 at Saint Joseph Regional Medical Center in Mishawaka, Indiana with his wife and sons at his bedside.

He was born on April 7, 1945 in Ryan, West Virginia to Lonnie Burton and Orlie Mae (Cox) Rhodes.

He came to Niles in 1963, and was graduated from Buchanan High School as an adult. He was employed at the former Tyler Refrigeration plant in Niles for over thirty years. He has been the Pastor of the Portage Road General Baptist Church in Niles for twenty years. Pastor Gar enjoyed hunting and fishing, but his greatest love was his church and his family.

On March 15, 1969 in Niles he married the former Catherine I. "Kate" Wyburn with whom he celebrated last March the forty-fifth anniversary of their wedding.

He is survived his wife, Kate Rhodes and by their sons, Pastor Lonnie (& Donna) Rhodes of Niles and Greg (& Amy) Rhodes of Osceola, Indiana; grandchildren Katie (& Kevin) Searfoss, Brandon (& Becky) Spicer, Justin (& Danielle) Fredricks, Kim Hammond, Courie Rhodes, Brittney Rhodes, and Greg Rhodes; Garland's brothers, Arnold (& Paulette) Rhodes of Leroy, West Virginia, Ronnie (& Cathy) Rhodes of Parsons, Kansas, Roger (& Sue) Rhodes of Niles, and sisters, Lula DeLay of Parkersburg, West Virginia, and Garnet Kees of Dunbar, West Virginia.

He was preceded in death by a daughter, Sue Ann Starkson in 2012, and by his parents and three brothers, Robert, Darrel, and Gerald Rhodes and three sisters, Frances Norman, Clarsie Sawyer, and Kathyrn Rhodes.

The funeral service for Pastor Garland Rhodes will be at 11:00 a.m. on Thursday, August 14, 2014 at the Portage Road General Baptist Church with Deacons Steve May and Mark Tumbleson officiating. The family will receive relatives and friends on Wednesday at the church from 4:00 p.m. until 8:00 p.m.

In West Virginia, the family will receive relatives and friends at the John H. Taylor Funeral Home in Spencer on Saturday from 11:00 a.m. until 1:00 p.m. Committal Services will be at the graveside in Hunt Cemetery near Vicker's Ridge at 2:00 p.m. on Saturday with Pastor Freddie Harper of Wolf Creek Baptist Church officiating.

Contributions in memory of Pastor Garland Rhodes may be made to the Portage Road General Baptist Church.

Arrangements were made at the Halbritter Funeral Home in Niles.