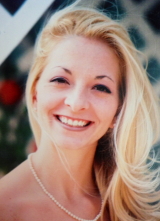 Misty Lei Tomblin age 34 of Glenville, West Virginia, departed this life Wednesday evening August 6, 2014 as a result of an automobile accident.

Born February 19, 1980 in Weston, West Virginia, she was the daughter of Grace Tallhamer and husband Rusty of Glenville and Frank Tomblin of Loving, Texas.

Misty was a graduate of Gilmer County High School, Class of 1998, and a graduate of Glenville State College, Class of 2002, with degrees in Business Management and Marketing. She was employed by JP Morgan Security LLC and held the title of Vice-President, Senior Financial Advisor.

Misty enjoyed cheerleading all of her life having been a cheerleader in elementary school, high school, and college. She was also a former cheerleading coach for Glenville State College. Misty was an avid member of Rob's Fitness Center in Buckhannon, ran several Warrior 5k runs, and loved spending time with and being active in her children's lives.

In addition to her parents she is survived by 2 daughters, Cassandra Drennen of Glenville and Alexis Carr of Glenville; 1 brother Frankie Andrew Tomblin Jr. and wife Teresa of Munford TN; 2 half brothers, Alexander and Benjamin Tomblin both of Texas; niece and nephew Cloey and Noah Tomblin of Munford TN, and grandmother, Faye Tomblin of Sand Fork, West Virginia.

Misty was preceded in death by her grandfather, Percy Tomblin.

Funeral Services will be conducted at the Ellyson Mortuary Inc., 2 Vanhorn Drive, Glenville, WV at 11:00 a.m. Monday August 11, 2014 with Pastor Bryan Groves officiating. Burial will follow in the Locust Knob Cemetery. Friends may call from 3-8 p.m. Sunday August 10, also at the Mortuary.

Ellyson Mortuary Inc. is assisting the family of Misty Lei Tomblin with arrangements.