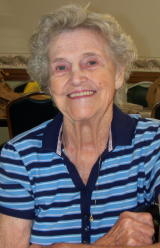 Osa Merle Wilson Fowler, 93, of Grantsville, passed away July 30, 2014 at Minnie Hamilton Health Center.

Born November 17, 1920 in Apple Farm, WV, she was a daughter of the late George and Bessie Stump Wilson. She was a long-time member of the Rush Run Baptist Church.

Osa enjoyed quilting, gardening and loved her cats. She dearly loved her friends and the staff at Aging With Grace. The family would like to extend their sincere thanks and appreciation for the wonderful care she received at Aging With Grace.

She is survived by her son Mikel Ross (Sherry) Fowler of Parkersburg; daughter-in-law Barbara Fowler of Parkersburg; four grandchildren, Brenda Hronec of Westerville OH, Beth Parsons of Parkersburg, Candace McClung of Parkersburg and David Fowler of Washington, WV; as well as eight great grandchildren.

She is preceded in death in addition to her parents by her husband Lowman Park "Wood" Fowler; son Randel Fowler; four brothers; five sisters.

Funeral services will be held Saturday August 2, 2014, 1:00 pm, at the Stump Funeral Home in Grantsville with Rev. John Vannoy officiating. Burial will follow in the Bethlehem Cemetery.