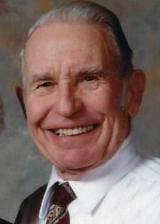 Robert B. Tucker, 90, formerly of Grantsville and Mineral Wells, passed away July 23, 2014 at his residence in Greenwood WV surrounded by his son Roger L., daughter-in-law Cheryl and Berna K. Ankrom, all of Greenwood.

Born July 19, 1924, in Alum Bridge, WV, he was the son of the late Samuel Tucker and Janie Virginia Hayhurst Tucker.

He was a World War II Veteran, a retired Hope Gas Co. employee and a devoted member of the World Wide Church of God.

He is preceded in death by his wife, Irene Moore Tucker; a brother Samuel Tucker Jr.; and a sister Freida Canterna.

Surviving are daughter Louana Tullis; son Roger Tucker; grandchildren Eric Tucker, Janie Harduk, Amy Fricke and Scott Tullis; great grandchild Carson Fricke.

Funeral services will be held Sunday July 27, 2014, 2:00 p.m. at the Stump Funeral Home in Grantsville with Rev. Lyle Welty and Eric Tucker officiating. Burial will follow in the Mt. Zion Cemetery with military graveside rites. Friends may call at the funeral home Saturday from 5:00-8:00 p.m.