Husk extended family members return to
backwoods ridge to inter family member
The ashes of 52-year-old Jackie Lethcoe, whose roots are wide and deep to the remote backwoods of Calhoun's Husk Ridge, were returned to the sod this week to rest with generations of the Husk family who somehow managed to carve a life in that wilderness with virtually no flat land.
A number of extended Husk family members congregated at the remote cemetery for the burial of the ashes near her father, Elmer Lethcoe, who was married to Kathleen Husk, daughter of the late Homer and Minnie Husk, former residents of the backwoods
Jackie's mother Kathleen still lives at White Pine in Calhoun County.
Homer Husk built a stately two-story farm house in a remote hollow off the ridge, long abandoned, a place in which Kathleen come of age.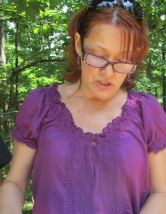 Jackie's cousin, Debbie Gainer Simpson (left) of the Cleveland Ohio area, spoke at the ceremony, recalling Jackie's life and the laughter and friendship they shared before cancer caused her death.
"Jackie always gave the best hugs ever...She was always so sweet and everybody loved her," said Debbie.
"God had Jackie in the palm of His hand," she said, recalling the days of her "joyful family always singing together."
See "THE HUSK" - A Backwoods Altar