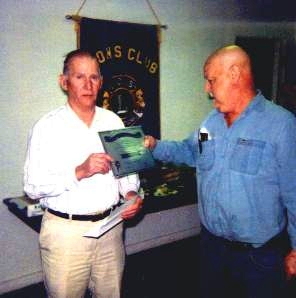 Tom Gainer (R) receives a plaque from past Lions Club president
Jim McCormick in 2003, just 3 months before Tom's death
See Tom Gainer Receives Lifetime Achievement Award - Recognized For Service To Community
By Sydney Underwood 2014
The first time I saw Tom Gainer was one summer evening long ago at the NYA Building when I took a break from roller skating. This may have been the summer of 1951 and I would have been nine years old. I remember that I walked outside and saw several boys leaning against an old pickup truck. As I approached, someone introduced me to Tom as the coach's son.
Tom, who was two years older than me, asked if I played touch football at the Grantsville Grade School. I replied that we did during recess. He said the boys at Russett School always played tackle football.
The boys with him joined the conversation and began describing torn shirts with missing buttons and grass stained knees and angry parents that confronted them when they got home from school.
I don't remember the names of those boys in that chance meeting, but it was plain to see that Tom was the leader of the group. They all appeared to be proud and eager to talk about their rough and tumble activities. I remember being impressed and thinking that the Russett boys were a tough bunch.
Our paths did not cross again until September of 1954, when I was a seventh grader at the old high school. Everything there was new and strange and the building seemed huge. We seventh graders knew we were at the bottom of the pecking order as we tried to find our way to the correct classrooms and stay out of the way of the upper classmen.
I remember that some upper classmen took great delight in giving several smaller seventh grade boys a hard time by not allowing them to use the restroom or shoving them aside when they were using the facilities. Tom, who was a freshman, learned of our situation and called on big Don Burch to stop the harassment.
Don decided that he would go to the restroom at the end of each class period and check out the situation. It didn't take long for him to see what was happening.
He immediately put a stop to it by pinning a junior boy against the wall and telling him to tell his buddies to stop bullying the seventh graders or he would personally kick their butts.
Don actually chose much more colorful words in his warning, words that will not be repeated here. The message was delivered and the problem ended that day in the boy's restroom thanks to the quick thinking of Tom Gainer.
Tom was a good baseball player and usually played second base for the Red Devil Team that was managed by Coach Cecil Johnson. I think that Tom may have been a starter from his freshman year because he was so competitive.
I remember one home game when Calhoun was hosting the Spencer Yellow Jackets. School was suspended that spring afternoon so all students could attend. There was always an intense rivalry between the schools.
That afternoon was no different. When Spencer players were batting, Tom kept pestering them by remarking how his grandmother had a better swing. It was his intent to keep them off balance and more than a little angry. He succeeded very well as there soon was much trash talking from both sides.
I remember that Tom completed a double play that afternoon. There was a runner on first base and he had been mouthing Tom about some real or imagined transgression. The batter hit a ground ball to the shortstop who scooped the ball and tossed it underhand to Tom. The base runner seeing his chance to break up the play dove headfirst at Tom's legs.
After stepping on second base, Tom jumped straight up in the air and fired the ball to first base completing the double play. Tom never saw the end of that play as he was upended and landed on top of the base runner.
A fight ensued with both players rolling around on the ground creating a minor dust storm. I remember that Tom was smaller than the base runner, but was holding his own when they were pulled apart by the coaches.
Both players got a good chewing out and were forced to shake hands But, I noticed that Coach Johnson was grinning to himself as he walked back to the dugout. He knew how feisty Tom was and appreciated how hard he played.
Tom was not very big, but was a fierce competitor and the team rallied around him. I always enjoyed watching the effect that he had on opposing teams.
With his constant chatter, he would usually anger them into making mistakes such as bad throws and dropped balls and that often was the edge that our team needed to win. One example that I remember was a home game against Ripley. Ripley had a player named Kenny Parsons who was a good athlete with a strong arm.
Because Tom had given him such a hard time, Parsons attempt to throw out a Calhoun base runner at home plate resulted in the ball sailing over the back stop. Tom was unmerciful that day in his critique of the play,
After Tom graduated in 1958, I lost contact with him and did not see him again until the early 1960's when we accidentally met at Glenville State College and realized that we were taking the same class together.
Tom told me that he had just completed a six month tour of active duty with the Army and now was a member the local Army Reserve Unit in Grantsville.
He told me that he had taught at the Daniels Run School on a permit and was again taking classes so he could continue teaching. We saw each other through the rest of that semester and contact was again lost.
My first job was at the DuPont plant near Parkersburg in 1965. I was assigned to work in the store room which was similar to a large hardware store inside the plant. After one year, I left and it was a mutual parting of the way.
I disliked the job of working at the receiving docks and having to run to the other end of the building when the buzzer sounded to disperse everything from carriage bolts to toilet paper. In addition to the smell of the place, the midnight shift convinced me that it was not a good fit.
After leaving that job I was unemployed in the fall of 1966. My Dad suggested that I talk with Tom about going to work as a state employee since Tom was now a social worker at the Grantsville Welfare Office.
One evening he and I went to see Tom who was living on Phillip's Run at the time. I will always remember Tom's words. He said that state employees never make very much money, but the paycheck will be in the mail every month. He advised me to take the state Civil Service test and get on the hiring register.
After passing that test, I was hired as a social worker on November 1, 1966 and assigned to the Grantsville office. I was on mandatory probation for the first six months. Although I had a supervisor, Tom became my mentor from that first day.
Like all new employees, I had to read through all the dreadfully dull manuals and Federal regulations before I was allowed to make home visits. Tom said that I would have to learn social work skills on the fly. I would learn to walk up lonely hollows, traverse muddy roads, straddle barb wire fences and fend off biting dogs. This, he said, was part of the allure of being a social worker in a rural county.
He said that I should not put too much effort into reading the manuals as they were constantly being updated or changed. Tom said that we welfare employees had some job security through the Civil Service System, but the Commissioner was politically appointed by the Governor and generally used the position as a stepping stone to a higher office.
He further stated that our system was much better than the Highway Department [State Road] where everything was based on political patronage. [The Department of Highways was placed under the jurisdiction of the State Civil Service System years later]
For the next twenty two years, I worked with and for Tom Gainer. He was well respected in his work with training programs, usually leading the state in job referrals and placements.
I saw close up how hard he worked. He did everything in his power to help people who wanted to become self-supporting and he had many success stories over the years.
Those who were not so inclined found him to be rather harsh at times. I learned more watching Tom in real time than I did from all the manuals that I suffered through.
I learned that when Tom gave me directions to someone's home, I never got lost on the wrong road. His analysis of a given situation was usually correct.
Tom's keen insight into human nature served him well over the years and it seemed that he could see through people and assess their sincerity.
It was uncanny how he could predict outcomes. I never knew anyone else quite like Tom Gainer. He could befriend you, defend you and then infuriate you with his bluntness.
Everything was black and white with Tom and there were no gray areas, and you always knew where you stood with him.
Many times over the years our staff would travel to mandatory training sessions in various places when we would be instructed by out of state consultants. These consultants usually had little or no field experience, although they had high academic credentials.
In glowing terms they would describe the benefits of a pilot program that had achieved good results in another state. After listening politely for a period of time, we would grow restless and start looking in Tom's direction. It would only be a matter of minutes before he would speak up and say what we were all thinking.
We would nod our heads in agreement and listen as he would point out flaws in their "new" program and explain how a similar program had been implemented here in the past with very limited success.
Sometimes, I felt sorry for the consultants, especially if they were young and pretty. Other times, I was not so sympathetic. Federal requirements aside, Tom thought it so ironic that the field staff who were responsible for implementing the programs had so little input into their structure.
Tom retired from DHHR in August of 1988 when an early retirement option was offered to certain tenured employees. A retirement party was held for him in the student union at Glenville State College.
Everyone who knew Tom had a favorite story to tell. Jokes were told and we had a fine time reminiscing, but it was a sad time, too.
I hated to see him go because I knew our office would never be the same. We were losing the cohesive force that had bound us together and we were losing a great leader.
After retiring, Tom served on the Calhoun County Commission for several years. He continued his work as Chairman of the Sight Program through the International Lions Club. He also found time to umpire local high school baseball games.
Tom was definitely unforgettable and I often think of him when I look back on the time that I spent as a social worker. Space does not permit the telling of all the good times we had together in the workplace and elsewhere.
He was the inspirational leader on our welfare basketball and softball teams. He was never at a loss for words even when the words stung, and we we loved him for being so courageous and outspoken.
Tom passed away in June 2003 after an extended illness.
His final resting place is in the Albert's Chapel cemetery at Sand Ridge.