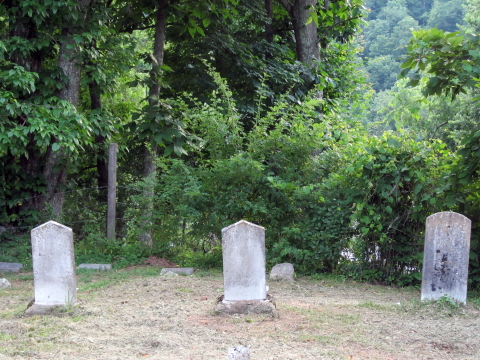 Among the oldest monuments in Calhoun, Tunice
and Catherine Propst Mucklewain, next to daughter
Nancy, first wife of "Billy Bluehead" Starcher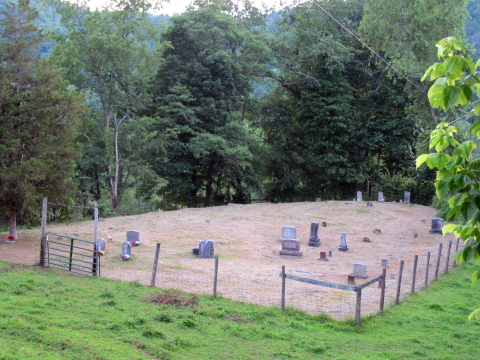 Early comers are buried in Winner-Ball Cemetery above the West
Fork of the Little Kanawha, between Altizer and Rocksdale
By Bob Weaver
Resting in the Winner-Ball Cemetery between Rocksdale and Altizer above the West Fork of the Little Kanawha are two early Calhoun residents, whose monuments are among the oldest in Calhoun cemeteries.
Their markers read Tunice Mucklewain (1773-1851) and Catherine Propst Mucklewain (1772-1849).
The Mucklewain name was shortened to Wayne, a prominent family that flourished in the Beech community.
Tunice (Tunis) and Catherine Propst Mucklewain (Mucklewaine, Wain, McIlwain, Wayne), with disputed reports claiming he was a Revolutionary War soldier and Indian scout, likely moved to the lower West Fork of the Little Kanawha River, the Lige Hall Falls, about 1820-30.
Tunice was born in Rockingham County Virginia.
They lived in proximity to Phillip Starcher, the first permanent settler, who lived along the river near the Lynch Cemetery.
Tunice and Catherine had ten children, with a daughter Nancy (1816-1871) marrying Phillip Starcher's son "Billy Bluehead" Starcher in 1840. She is buried beside her parents.
William "Billy Bluehead" Starcher(1822-1894), son of Calhoun's first permanent settler Phillip Starcher.
The "Bluehead" nick-name, according to word of mouth history, was linked to his shining blue-black hair, while others claimed he always wore a blue hat.
Billy Bluehead owned several hundreds of acres in the greater Rocksdale area, his Rocksdale house was in a prominent location where Henry's Fork empties into the West Fork.
He helped start at least two churches, the Bluehead Church, later known as Dry Hill on Egypt Ridge, and the Walnut Grove Church near the mouth of Barnes Run. He is buried in the Dry Hill Cemetery near the "Bluehead Church" on Egypt Ridge. He likely fathered nine children.
A prominent descendant of Tunice Mucklewain was son Jacob Wayne (1810-1893), who moved from Webster County to Calhoun around 1830. He owned land at the age of 20, was married three times and had eighteen children. He died and was buried there at the age of eighty-three.
Jacob first married Christina Parsons, a daughter of Joseph and Elizabeth (Bush) Parsons. His second wife was Rebecca (Nichols) McCune, a daughter of Levan and Margaret (Mace) Nichols and the widow of Daniel McCune, and lastly, Nancy Barnhouse.
He is buried in the Wayne Cemetery on the left fork of of Rush Run with his third wife Nancy, while many of the Wayne descendants are buried in the Wayne Cemetery on Beech.
See CALHOUN'S OLD WAYNE CEMETERY - Memories, Deeds, Tears And Glories