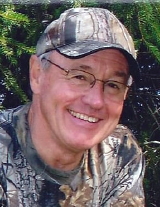 Andrew Mal Molessa, 67, of Davisville WV, passed away peacefully at home surrounded by his family May 29, 2014.

Born in Parkersburg on August 22, 1946, he was a son of the late Lewis and Irene M. Molessa.

He was a 1966 graduate of Calhoun County High School. In 1968 he married his wife JoAnne Kelley Molessa. Andrew was a member of the Calhoun Board of Education from 1984 through 1992 and employed at Dupont Washington Works from 1969 until he retired in 2005.

He was a member of Eureka Lodge No. 40 in Grantsville and a 32nd Degree Scottish Rite. Andrew attended the South Parkersburg Baptist Church. He was a loving "PaPa" to his grandchildren and had a genuine love of the outdoors that he shared with family and friends.

He is survived by his wife of 46 years, JoAnne; son Christopher Todd (Heather) Molessa of Pullman WV; daughter Andrea Eve Kinzer of Mineral Wells WV; grandchildren Hannah E. Kinzer, Bentley M. Kinzer, Leewood C. Molessa and Maxwell K. Molessa; sister Naomi (Bill) Jarvis; mother-in-law Evelyn Kelley; brother-in-law John M. Kelley.

In addition to his parents, he is preceded in death by his grandparents John C. and Fannie Ellison.

Funeral services will be held Sunday June 1, 2014, 2:00 pm at the Stump Funeral Home in Grantsville will Rev. Joe Lancaster officiating. Burial will follow at the Ohio farm in Cutler Ohio. Friends may call at the funeral home Saturday from 5:00-8:00 pm.

In lieu of flowers, the family requests donations be made in his memory to the youth outdoor hunting and preservation JAKES DAY at Mid Ohio Valley NWTF, c/o Dan Thomas, 1361 Lost Pavement, Parkersburg, WV 26101 with checks payable to Mid Ohio Valley NWTF.