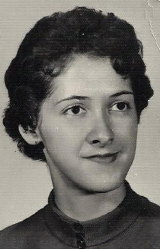 Sharon Janette Sampson, 74, of Grantsville, West Virginia, passed away May 23, 2014 at Camden Clark Memorial Hospital in Parkersburg.

She was born in Calhoun County, May 23, 1940, a daughter of the late Earnest and Waneta Whipkey Lydick. She enjoyed going to the senior citizen's center, playing bingo, cards and Yahtzee.

She is survived by her daughter Teresa (Calvin) White of Leachtown WV and son Richard "Bub" (Neena) Sampson of Mt. Zion; sister Karen (Mike) Crawford of Columbus OH; sister-in-law Kathryn Jean Lydick of Parkersburg; grandchildren Christopher (Nancy) Sampson of Mt. Zion and Jonathan Sampson of Mt. Zion; step grandchildren Nicole White of Parkersburg and Jonathan White of Elizabeth; step great grandchildren Ryker Nedeff and Jasmyn White as well as several nieces, nephews and cousins.

She is preceded in death in addition to her parents by her brother Robert Lydick.

Funeral services will be held at the Stump Funeral Home in Grantsville Tuesday May 27, 2014, 2:00 pm with Rev. Carroll McCauley officiating. Burial will follow in the Nobe Cemetery. Friends may call at the funeral home from 12:30-2:00 pm prior to the services.