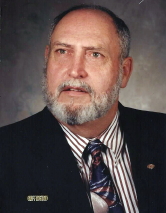 Robert G. "Tank" Davis, 76, of Grantsville, West Virginia, passed away Saturday, May 17, 2014 at The Arbors of Marietta, OH. He was a Christian and a member of the Knotts Memorial United Methodist Church.

He was born March 15, 1938 in Grantsville, WV, a son of H.C. Davis and Dessie Cox Davis.

He is survived by his wife of 55 years Lillian Morris Davis; his son Tim (Pam) Davis and daughter Jill (Dave) Trippett, all of Grantsville; grandchildren, Melanie (Quienton) Garrett and Marcus (Tiffany) Davis of Grantsville; step grandchild Kristie (Travis) Callihan of Huntington, WV; great grandchildren Aidan and Ashton Garrett, Albany and Baron Davis; step great grandchildren Raegen and Chase Callihan; sisters Clarice Whytsell of Grantsville and Shirley Saunders of Bluefield WV; sister-in-law Janet Davis of Grantsville and several nieces and nephews.

Tank was a 1956 graduate of Calhoun County High School where he excelled in both football and basketball. He continued his involvement with athletics by coaching several little league basketball teams and operating the game clocks at CCHS football and basketball games for more than three decades. He retired from Consolidated Natural Gas with 37 ½ years of service. After retirement he enjoyed woodworking and building projects.

He was preceded in death by his parents; a brother Duane C. Davis; an infant sister Cathleen; sister Imogene Corne; brothers-in-law Charles Corne, Pete Whytsell and Frank Saunders.

Funeral services will be held Wednesday, May 21, 2014, 1:00 p.m. at the Knotts Memorial United Methodist Church with Rev. John Lowther officiating. Interment will follow in the Bethlehem Cemetery.

Friends may call at the Stump Funeral Home in Grantsville Tuesday from 6:00-8:00 p.m. and from 12:00-1:00 p.m. at Knotts Memorial United Methodist Church in Grantsville prior to the service.

Memorial donations may be made to Knotts Memorial United Methodist Church, P. O. Box 617 Grantsville, WV 26147.