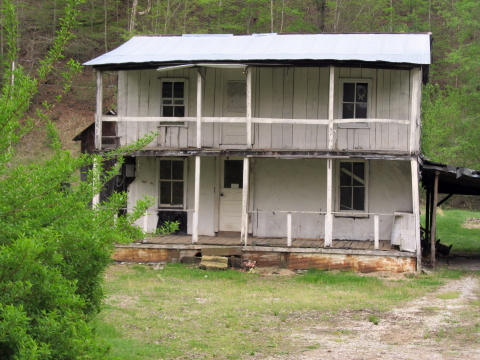 This now vacant ole house is about 100 years old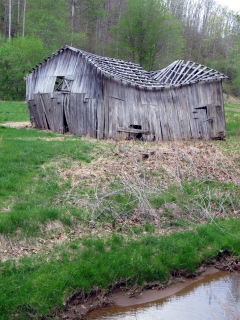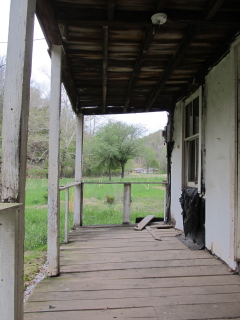 The old barn is caving in, on this sittin' porch hundreds sat wavin' at horse and buggies and later cars going up and down Rowels Run
By Bob Weaver
This ole house on Rowells Run near the Village of Hur is likely about 100 years old, built by James Ellsworth (1883-1963) and Clara Harden Kerby (1877-1944), who were married in 1913.
The "Jenny Lind" construction was common in the early part of the last century, houses thrown together with rough-cut lumber, often with cracks that the wind could blow through.
A number of such houses are still occupied in the county.
Poor families would paper over the cracks with multiple layers of newspapers and flour sacks for some insulation.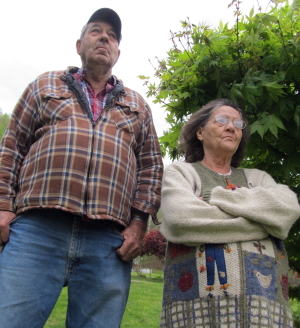 "Tink" and Helma Starcher loved their old home
For over 40 years, the house has been the abode of Helma and Tink Mace Starcher, who recently moved from the aging structure to a nearby house provided by their son.
Tink said, "I loved the old house, but it was about to fall down," regretting her departure. "It was hard leaving the old place, our family grew up here and all the grand kids came back."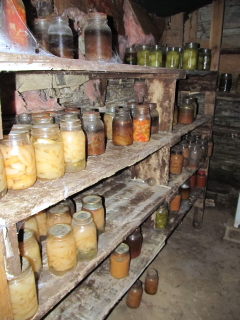 In the old cellar is still some left-over fruit from canning days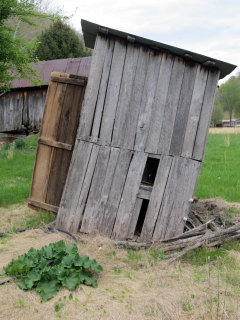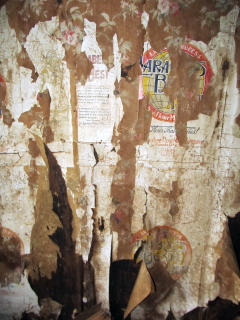 Outhouse is seriously leaning, inside walls
have evidence of layers of papering skills
2014
See "A HEALTHY AND TASTY EXPERIENCE" FOR COLD WINTER DAYS - Helma Grows A Little Tobacco For Fun