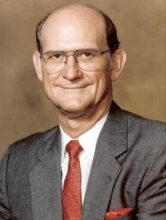 Dr. Bill M. Atkinson, 82 of Little Hocking, Ohio passed away peacefully on April 26, 2014 at his residence, surrounded by family and loved ones.

He was born November 1, 1931 on the Middle Fork of Reedy Creek at Reedy, West Virginia, to parents Oma Clemeth and Hazel Kathleen Roberts Atkinson. He was the fourth of five children.

Bill was a 1949 graduate of Spencer High School; in 1955, he received a Bachelor of Arts from Glenville State College. Prior to attending WVU Medical School, he taught math in the area. Teaching remained a big part of Bill's life. He loved to teach and encouraged so many people to pursue their educational dream(s).

He later attended West Virginia University where he graduated in 1965 with a Doctor of Medicine M.D. degree and completed his General Surgery Residency at Appalachian Regional Hospital in Beckley, WV (67-68) and Memorial Hospital in Charleston, WV (68-71).

Bill practiced medicine specializing in general surgery in the Mid-Ohio Valley. He was the first Trauma Director for St Joseph Hospital and was instrumental in developing the Trauma program for 11 county service area.

During his career he served as President of Medical Staff at St Joseph Hospital in 1976 and in 1984-85 he served as Medical Staff President at Camden Clark Memorial Hospital. Later, he served as Medical Director of Marietta Memorial Hospital until his retirement in 1996.

Bill was very active in the Medical community during his career , He was Past President of West Virginia State Medical Association and member of Parkersburg Academy of Medicine, Washington County Medical Society, , Ohio State Medical Association, American Medical Association, American College of Physician Executives. He was also member of Pioneer Antique Power Association Inc and Past Member of the Washington County, Ohio Republican Central and Executive Committee.

Bill's service in many different capacities during his life all of which had one common goal: To better a person or the community's life. He will be sorely missed.

He is survived by his wife Carolyn I. (Hoselton) Atkinson; brother, Charles A. Atkinson of Reedy WV; sister, Phyllis I. Atkinson King of Ripley; several nieces and nephews, Susan J. Abdella of Belpre OH, Sheryl Carpenter of Mineral Wells WV, Sandra Carpenter of Belpre, Ronald Atkinson of Vass NC, Michael Atkinson of Denver, CO, Carrie Berzinski of Athens OH, Jane Beth Page of Whispering Pines NC, Randy Atkinson of Marietta OH, Jim King and Steve King of Ripley; 14 great nephews and 12 great nieces and several great-great nieces and nephews.

Bill was preceded in death by his parents Oma and Hazel Atkinson; two sons Gregory B. Atkinson and Richard A. Atkinson; one brother Lloyd Darrell Atkinson;, one sister Rita Atkinson; and nephew Chuck Atkinson.

Visitation and Celebration of life will be held at Lambert-Tatman Funeral Home 1305 Washington Blvd, Belpre, Ohio. Visitation will be Wednesday April 30th 2014 from 2 to 8 p.m. A Celebration of his life will be held at 10 a.m. on Thursday, May 1, 2014 at Lambert-Tatman in Belpre.

Following the Celebration of Life a visitation will be held at Taylor Vandale Funeral Home at 206 Beauty Street Spencer, WV from 2 to 4 p.m. and graveside services following at Mt. Zion Cemetery.

In lieu of flowers donations may be made to Billie M. Atkinson Scholarship fund at Glenville State College Foundation 200 High Street, Glenville, WV 26351.