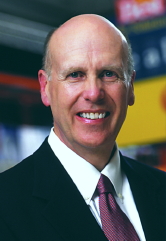 Charles Stanley Hardman, 69, of Spencer, WV, passed away April 22, 2014, in the Levine & Dickson Hospice House at Southminster, Charlotte NC.

He is survived by his loving wife of 45 years, Donna Frazier Hardman.

Born on May 11, 1944, in Morgantown, WV, Stan was one of four children of the late Charles Owen and Mary Fiedler Hardman of Spencer, WV.

Upon graduation from Spencer High School in 1962, Stan attended West Virginia University and graduated in 1966 with a B.S. degree in Marketing. He was a member of the Delta Tau Delta Fraternity and a ROTC cadet. Stan enlisted in the Army National Guard in 1967 and served for six years. Following graduation, he worked as a Job Classification Analyst for the University.

In 1969, Stan joined his father in the family hardware business in Spencer, WV. At the time of his passing, he was the retired President and Chairman Emeritus of Hardman Supply Company. He was a former Chairman of the Board of Directors for the Do it Best Corp. of Fort Wayne, IN.

He served as President of the Hardware Association of the Virginias; was a member of the Advisory Board of the Home Center Institute and was named one of the industry's Top Guns by Hardware Retailing magazine in 2007. Stan was a long-time member of the Better Information Group, a forum of top management peers from independent lumber and hardware dealers across the country. As a friend in the industry stated, "Stan personified everything good about the hardware industry."

As a lifelong member of St. John's United Methodist Church, he presided as Lay Leader for 20 years as well as holding numerous leadership roles. In addition, he was Chairman of the West Virginia United Methodist Conference Camps and Education Commission.

As a community leader, he served as President of the West Virginia Black Walnut Festival, President of the Spencer Rotary Club and was an active member for 43 years. He was past Treasurer of the Roane County Economic Development Authority and a member of the Roane County Chamber of Commerce. In 1992, the Roane County business community recognized him as Citizen of the Year.

One of his greatest joys was helping others succeed. Stan mentored and coached individuals of all ages on professional skills and public speaking. He also assisted students in pursuit of scholarship opportunities. He continued his commitment to West Virginia University as a member of the Southern Regional Advisory Committee, served as a judge in the WV Collegiate Business Plan Competition and was a frequent guest speaker at the WVU College of Business.

A passion for the North Carolina coast began at an early age during family vacations. Stan found joy in teaching his cousins, children and friends of the family about boating, waterskiing and navigating the waterways. Throughout his life he took pleasure in sharing his love of the sun, sea and sand with others. While fighting his battle with multiple myeloma, Stan found peace and comfort at Harbor Village Marina in Hampstead, NC. He was engaged in nautical activities of the marina and the Intracoastal Waterway. His favorite moments were spent there with neighbors, friends and family.

In addition to his wife Donna, he is survived by two daughters, Jamie Loving of McLean, VA and Gwendolyn Lowry of Charlotte, NC and sons-in-law James W. Loving, Jr. and T. Kirk Lowry, III; four grandchildren, Adelaide and Charlotte Loving and Eliza and Thomas Kirkpatrick "Kip" Lowry, IV; brothers, Fred C. Hardman and wife Martha, Thomas F. Hardman and wife Susan all of Spencer; sister Sarah Hardman Giachino and husband, Nick of St Charles, IL; brother-in-law and sister-in-law, Joe and Cheryl Wilson of Spencer.

Stan will be remembered as a selfless and caring husband, father, brother, uncle and friend.

Expressions of love can be made as a memorial gift to WVU Foundation, IMO Stan Hardman, 1 Waterfront Place, Morgantown, WV 26501, or the Multiple Myeloma Research Foundation, IMO Stan Hardman, 383 Main Ave., 5th Floor, Norwalk, CT, 26851 (www.themmrf.org)

Taylor-Vandale Funeral Home, 206 Beauty St., Spencer, is in charge of the arrangements.

Visitation will be from 5:00 to 7:00 p.m. Friday, May 2 and a Celebration of Life service will be Saturday, May 3 at 11 a.m., both at St. John's United Methodist Church, 335 Church Street, Spencer, WV with the Rev. Michael Ludle officiating, assisted by the Rev. Art Tucker. A graveside service in Spencer Memorial Cemetery will follow.