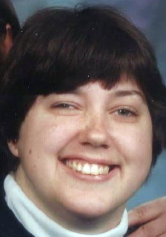 Tresea Renea Davidson, 43 of Big Springs was was tragically lost along with her father Roy and grandmother Nora, Saturday, March 29, 2014.

She was born in Lewis County, WV, the daughter of Roy and Janet Davidson of Big Springs.

She touched many hearts in her 43 years and left quite an impression on all. She could brighten a room with her jolly laugh and never ending smile. She loved to volunteer her time to help others. She also cherished her beloved dog Terry.

She is survived by her sister Lisa McDonald; brother-in-law Ryan McDonald, a nephew Cody and a niece Andrea Mcdonald, all of Monmouth, Maine.

She was preceded in death by her mother Janet (Burrows) Davidson, and a niece Alexis Marie McDonald.