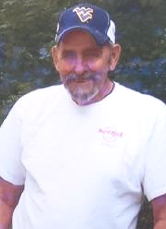 Roger Lee Carte, Sr., 68 of Kenna, WV passed away April 19, 2014 in Calhoun County WV.

He was preceded in death by his mother, Vola "Poe" Deel and his grandmother Viola "Granny" Hill.

He is survived by his wife Kathy Carte; his son Roger Carte, II; daughter Renee' (Chad) Johnson; and his special nephew, Johnny Haynes of Mason County; grandchildren Justin Carte, Ashley Carte, Chase Johnson, Ty Johnson, Luke Johnson and great grand-daughter Emmy Carte. He is also survived by his sister and brother, many close friends and family.

As per his wishes there will be no viewing, no services and his body will be cremated. Stump Funeral Home of Grantsville is assisting the family with arrangements.