By Bob Weaver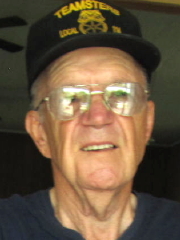 My longtime neighbor and friend, Charles "Tap" Kerby died at age 71 in 2014.
Tap grew up at the head of Rowels Run, real close to the Village of Hur. A rock throw down the rugged hill from my abode. We could hear the Kerby bunch chase up and down the trickle of a stream in the tiny hollow surrounded by craggy hills.
Of the seven children of Holly Kerby and his wife, Charles "Tap" was the adventuresome one, always tearing things apart and putting them back together. He was a tinkerer, messing with nuts and bolts and screws and washers, from which sprung his nickname "Tap."
He liked a little excitement now and then, which was probably the reason we were friends. You know, the devil of dubious excitement looking for stuff to amuse and experiences to gratify.
His Calhoun High classmates have many remembrances of his antics, including climbing to the top of the old Grantsville bridge and leaping from girder to girder.
One time when Tap was walking across the high girders, they called the fire department in fear that someone was trying to commit suicide.
Tap always had a sense of transportation.
Maybe he was always dreaming about getting out of the holler to see the world, which he did in the US Army, and later becoming a long distance truck driver of thirty years or more, driving millions of miles.
Back then the best he could do was fuss around with push carts, old car frames and a few broken down bikes - things that by a stretch could take you places.
He could tell whose car was coming up Rowels by the hum and whine of the engine, although he admitted to being baffled when Wig Smith drove by in his contraption.
Wig had an old hack which used steel-ribbed mowing machine wheels instead of rubber tires. Wig was not one to be held back by flat tires and lack of finance.
Those metal cleats thrashing against the hard rock road would not fool Tap. Wig was also known for using his bicycle to pull a buggy full of kids all the way to Parkersburg, right over Elizabeth Hill.
Tap would get tired of his routine, running around the hills with the likes of the Smith boys and myself, and he would go off and invent or re-purpose something. While Tap was inventing mechanical stuff in the holler, I would be inventing electrical stuff on the hill.
Just like that Darius Green guy and his flying machine, Tap set out to build an airplane. I think his brother Poge and a few others helped, but it was Tap who put the rig together, wings, tail, and propeller, powered by a Briggs and Straton gasoline engine off his mom's old washing machine.
The construction and excitement occurred so rapidly that Tap couldn't wait to summon all the neighborhood kids to witness the launching.
They tugged the contraption up the rugged hillside to Bear Rocks near Rex Ward's meadow, high above the Kerby house. The heavy machine was nestled close to the cliff as he fired the engine and seated himself in the open cockpit.
With a push and a shove it catapulted off Bear Rocks on it's fanciful freedom flight ... only to be gravity fed down the brushy hillside, covered by green briars, tree stumps and groundhog holes.
Would you know, Tap stuck right with the machine as it turned end for end, inflicting bruises and cuts over most of his body. "I stayed with her, just in case she decided to take off," he said. "Wonder it hadn't killed me."
Years later, as an old man, I still can't understand why the neighborhood teen boys just watched his launching. Surely we knew the rig wouldn't fly.
Lo years later, Tap "stayed with her" as he traveled three million miles crossing America in his long distance truck, gazing out his window at our beautiful country, still in the midst of his fanciful freedom flight.
After retirement, he told endless tales of encounters and adventures he experienced as a truck driver, while not tinkering fixing his collection of cars and trucks.
He has spent endless hours trying to repair the closed Mt. Olive United Methodist Church, were generations of his family are buried nearby.
The church had been repaired in time for his funeral.
And he worked day after day repairing people's cars and trucks, giving them a helping hand.
Sometime this week, I'll go over to Bear Rocks and sit a spell, and spend some time remembering the country life we shared.
He is survived by his wife of 48 years, Phyllis, son Charlie and daughter, Ronda of Hur and his grandchildren.
POSTSCRIPT: Just a few cars pass my house in Hur each day. "Tap" usually went by several times. For a couple of years when vehicles passed by, my mind would say - "There goes "Tap." See OLD SAINTS WOULD BE PROUD - Hur Church Bell Rings For State's 150th Birthday