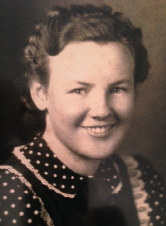 Juanita Knotts Siers, 92, of South Charleston, WV, went home to the Lord April 2, 2014 at Laurel Nursing and Rehabilitation Center in Ivydale, WV.

She was born November 14, 1921 to Charles and Etta Knotts in Chloe, Calhoun County, WV. She was the eleventh of twelve children. She graduated from Calhoun County High School in Grantsville WV. She and her husband Sherwood Siers, also from Calhoun County, were married for 63 years until his death in 2003. They lived many years in Fayette County, WV. She was a homemaker and a Christian.

In addition to her parents and husband, she was preceded in death by brothers, Lee, Thomas, Cecil, Scott, Bernard and Charles, Jr. Knotts; sisters, Sadie, Reva, Marie, Opal and Jean; eight nieces and nephews.

She is survived by her nieces and nephews, Mary Henry of Williamstown, WV, Joann Cadwell of Duck, WV, Neal (Joyce) Arnold of Vienna, WV, Ed (Betty) Arnold of Cooleville, OH, Betty (Ken) Whittington of Greenwood SC, Geneva (Jim) Lucas of Kingman, AZ, Larry (Suchi) Cottrell of Orma, WV, Barbara (Larry) Travis of Washington, WV, Judy (Ted) Williams of Scarbro, WV, Janet (Dewey) Tanner of Nebo, WV, Helen (Joe) White and Charles (Von) Vincent of South Charleston, WV, Karen Fillingame of Mercer, PA, Karla (Terry) Upton of Ballard, WV, Bernita (Gary) Epling and Steve (Melinda) Knotts of Ripley, WV; three generations of great and great-great nieces and nephews.

She was a beloved daughter, wife, sister and aunt and will be greatly missed.

Funeral services will be held Sunday April 6, 2014, 3:30 pm at the Stump Funeral Home in Arnoldsburg with Rev. Dewey Tanner and Ed Arnold officiating. Burial will follow in the Minnora Cemetery. Friends may call at the funeral home from 1:30-3:30pm prior to the services.