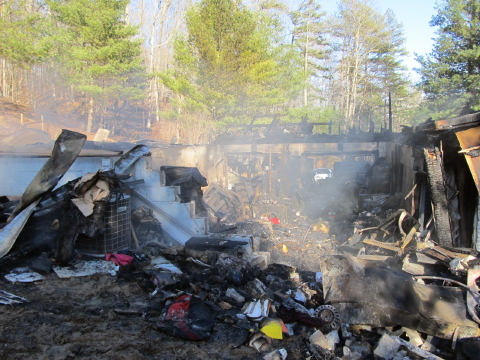 Tragedy by fire has struck the Calhoun Community
2014
It's been a while since a fire took the life of a grandmother and her three grandchildren on Mud Fork.
Now another tragic fire on Leading Creek, March 29 (2014) near State Rt. 16, killed three victims from three generations, when fire quickly swept through their home Saturday night.
Asst. Fire Marshal Jason Baltic said the cause of the blaze is yet to be determined, a report on the not expected for several weeks,
Dead is Roy Davidson, in his 60s; his physically challenged daughter Teresa Davidson, about 42; and his mother, Nora Davidson, in her 90s, all of Big Springs.
Roy Davidson had been a longtime employee of of O. Ames in Parkersburg and had worked as a Calhoun bus driver.
Roy Davidson's wife of 42 years, Janet, 62, a longtime cook at Arnoldsburg Elementary School, suffering from cancer, died in November, 2013. See Janet R. Davidson
Surviving is a daughter in Monmouth ME, Lisa Davidson McDonald.
The bodies have been sent to the WV Medical Examiners office for positive identification.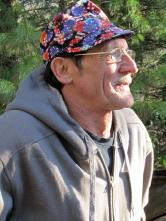 The fire was discovered Saturday night by a man returning from work. Neighbor Ernest Lamp (left) a friend of the Davidson family, said he called 911 about 10 p.m. Saturday, then he and the man went to the burning house.
"We tried to get through the door which was red hot and fire coming around it," Lamp said. "We then tried to get through a window but there was too much smoke smothering us."
"We were pretty sure they were all in there, but we just couldn't do anything. They were great neighbors," said Lamp.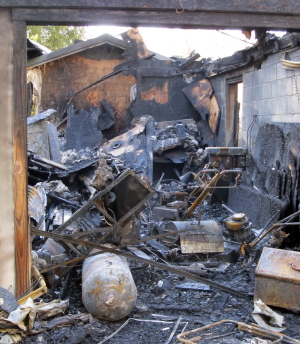 The Grantsville, Smithville and Arnoldsburg VFDs were on scene for hours pouring 60,000 gallons of water on the fire to begin locating the bodies, which were recovered Sunday morning about 10 a.m.
The single-story house rested on a basement-garage, and two nearby vehicles were destroyed or damaged.
The West Virginia Fire Marshals office was on the scene most of Sunday, with sources saying an electric space heater might have caused the fire.