MURDER NEVER SOLVED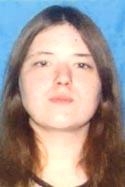 2014
At long last the remains of murder victim Christian Dawn Starcher Seabolt of Spencer will be laid to rest.
The girl disappeared in 2002, leaving her mother's apartment to get cigarettes, never to be seen again. Her body was discovered in 2009 in a wooded area near Creston.
The forensic division of the Smithsonian Institute examined the remains and identified the woman.
Police say they have no suspects for the crime, and years of accusations and theories about her death remain unclear, a mystery that may never be put to rest.
The woman, who would now be 30 years old, will be interred in the Tawney Cemetery, the John H. Taylor Funeral Home will be completing the arrangements.
See MURDERER OF CHRISTIAN DAWN STARCHER SEABOLT NEVER FOUND - Body Recovered On Groundhog Ridge Four Years Ago