A former Calhoun educator and World War II veteran died in Parkersburg at 91 in 2014.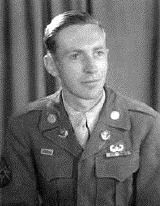 Glen Dawson (left) whose roots are in the Village of Joker was a longtime Calhoun teacher and principal.
After graduating from Calhoun High School and being employed by Glenn L. Martin aircraft in Baltimore MD, he entered WWII, enlisting after his younger brother had been drafted.
Glen served with the 82nd All American Airborne Division in the European Theatre and participated in the liberation of Holland (Operation Market Garden), the liberation of survivors of the Wobbelin concentration camp, Battle of Normandy-D-Day, and many others.
He was wounded when his glider crashed behind enemy lines. After the war was over, he was reunited with his brother John in Berlin.
Returning to Calhoun, he married Delma Deems, and then graduated from Glenville State Teachers College, and spent most of his life in Calhoun County as an educator.
He was a man of his roots, connected to the hills and hollows of Calhoun County.
Burial was near his homeplace, the Bryner Chapel Cemetery at Joker.
See complete obituary Glen Dawson
See also JOKER STORE AND POST OFFICE BROUGHT TO LIFE - Potbellied Stove, "Liar's Bench," And Penny Candy