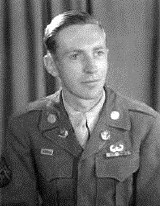 Glen Dawson, 91, of Parkersburg, WV passed away Saturday, March 1, 2014 at Camden Clark Memorial Medical Center.

He was born August 23, 1922 at Creston, WV. Glen is survived by a brother John (Mamie) Dawson of Parkersburg; two sisters, Edna Mason of Jacksonville IL and Carolyn (Jim) Elza of Parkersburg; brother-in-law and sister-in-law Warren and Velma Dillard, several nieces and nephews.

Glen graduated from Calhoun High School and was employed by the aircraft company of Glenn L. Martin in Baltimore MD. When the U.S. entered WWII, he quit his job and enlisted because his younger brother had been drafted. Glen served with the 82nd All American Airborne Division in the European Theatre and participated in the liberation of Holland (Operation Market Garden), the liberation of survivors of the Wobbelin concentration camp, Battle of Normandy, and many others. He was wounded when his glider crashed behind enemy lines. The end of the war saw he and his brother reunited in Berlin.

When Glen returned home, he married Delma Deems, graduated from Glenville State Teachers College, and spent most of his life in Calhoun County as an educator; both principal and teacher. Upon retirement, he devoted his time to his interests in oil and gas. He liked to hunt, fish, and play guitar. He made recordings of historical notes of his drives around Calhoun, Wirt, and Gilmer Counties. The recordings contained anecdotes of the families that lived in the area as well as his own childhood memories.

Glen was preceded in death by his wife of 56 years, Delma Deems Dawson, his parents, Kelsey and Scottie Dawson, and his brother-in-law, Myron Mason.

Services will be held at 2 pm March 8 at Stump Funeral Home in Grantsville, WV with Rev. Joe Law officiating. Burial will be in the Bryner Chapel Cemetery, Joker, WV.

Friends may call 2 hours prior to the service.