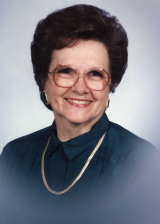 Wanda Lee Richards Bailey, 89, of Spencer, West Virginia, born December 7, 1924 in Washington, Pennsylvania to the late Clarence and Bernice Richards, passed away on Monday, February 24, 2014 at the Roane General Hospital in Spencer.

She was a member of the First Advent Christian Church in Spencer, Wetzel Chapter #27 Order of the Eastern Star, the homemakers club for several years until it was discontinued, and the Hill and Hollow Garden Club for several years. She was in a missionary group for several years until it was discontinued and was formerly employed at Casto & Harris for 19 years.

Wanda is survived by a daughter, Erma Lou Garrett of Spencer; two sisters, Betty Boggs and Zerelda Blosser, both of Spencer; a brother, Robert Richards of Spencer; two granddaughters, Debra Garrett Miller of Spencer and Amber Frum Gile of Cleveland, Ohio; three grandsons, Eddie and Doug Garrett of Spencer and Mike Garrett of Horner, West Virginia; nine great-grandchildren; and four great-great-grandchildren.

She was preceded in death by her husband, Vernon Bailey; a daughter, Donna Jean Frum; a grandson, Ray Allen Garrett; a great-grandson, Cory Garrett; and a sister, Ermal Cline.

Service will be at 2:00 pm on Thursday, February 27, 2014 at the TAYLOR-VANDALE FUNERAL HOME in Spencer, with Rev. James Shamblin officiating. Burial will follow in the Eventide Cemetery in Spencer. Visitation is two hours prior to the service at the funeral home.