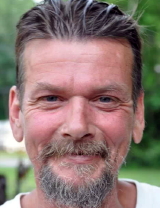 Charles Ray Burrows-Gillespie, 54, of Niles OH, formerly of Garrettsville, OH went home to be with the Lord on Feb. 18, 2014 at St. Joseph's Hospital, Warren, OH surrounded by his mother and children after an extended illness.

He was born on April 2, 1959 in Parkersburg, WV. He was preceded in death by father William (Bill) Burrows, grandparents, Lillie and Donzel Butler, and D.K. Burrows, 2 uncles, Jack Butler and Willard Burrows.

He is survived by mother, (Zona) Marie Burrows of Garrettsville, OH; grandmother, Leone Burrows of Marietta, OH; 2 sons, Jeremy Burrows of Millstone, WV, Brian (Erica) Burrows of Mt.Zion, WV; 2 daughters, Shastina Gillespie of Kent, OH, Cortney (Scottie) Crum of Palmyra, OH; 7 grandchildren, Kurtis, Jason, Landon, Alexis, Bailey, Cayce and Brooklyn; 3 sisters, Regina Schwan of Lavonia, GA, Joyce (Edwin) Gutierrez of Springfield, TN, and Marlene Conklin of Ravenna, OH; 4 nieces, 6 nephews, and several aunts, uncles, and cousins.

Viewing beginning Saturday, Feb. 22, 2014 12:00 at Stoney Point New Hope Church on Altizer Road, Arnoldsburg, WV. Services will begin at 1:00 with Rev. Garry Bowen officiating. Burial following at the Bailey Cemetery on Beech Road, Minnora, WV.