Adrenalin Rush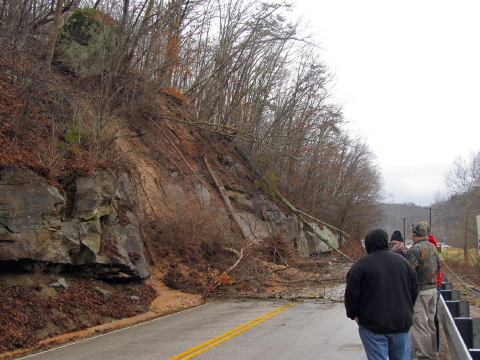 Giant boulder had already moved about 50 feet,
lodging against trees, dangling above highway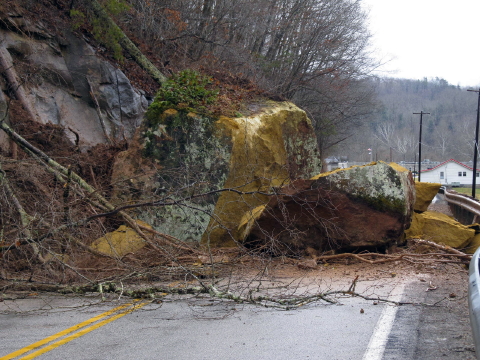 Then boulder breaks free and falls into Route 5, blocking road
2/6/2014
By Bob Weaver
A gigantic boulder above State Route 5 East near the Calhoun-Gilmer Career Center broke from its moorings and fell into the highway shortly before 1 p.m. Wednesday.
The Grantsville Volunteer Fire Department responded to a 911 call at 9:30 a.m. to the same location with a tree and downed power lines blocking the road.
Firemen alerted highway officials that a large boulder had come down the hillside about 50 feet and appeared to be lodged against some trees, and presented a public safety problem.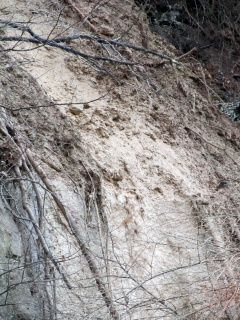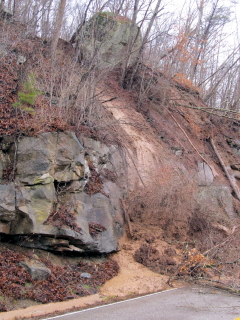 Mudslide likely unseated the dangling boulder
The highway was closed at 11:45 a.m., an announcement said Rt. 5 could be closed for 24 hours.
While the Hur Herald was photographing the dangling rock and mudslide, the boulder broke and crashed into the highway, with parts of the rock going through a metal guardrail, into the Little Kanawha River. shaking the earth.
It was a giant thud, shaking the earth.
Responders standing below the rock in the highway, including the Hur Herald, had a sufficient adrenaline rush to break into a full speed run away from the crashing rock, un-crushed.
A fireman told the Hur Herald, "Dam, I didn't know such an old man could run that fast."
The power company was on scene restoring the power lines and the WV Department of Highways was preparing to begin clearing the roadway.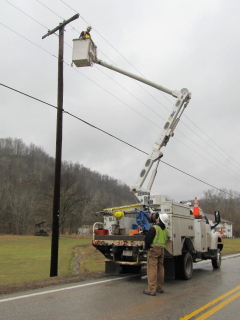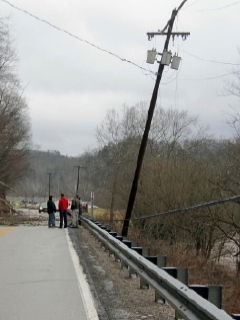 Electric company had responded to restore power