January 2020

Lula Hughes, among the last of the walking, talking history books, has died at the age of 103.

If the pearly gates don't open wide for Lula, we're all in trouble.

She was the last of the greater Hur areas oldtimers.

Services will be 11:00 am, Tuesday, January 7, 2020 at Matheny Whited Funeral Home of Elizabeth WV, with the Rev Roger Carter, Rev Gary Maynor and Rev Matt Robinson officiating. Visitation will be Monday January 6, 2020 from 6 to 8 PM. Interment will be at K of P Cemetery of Elizabeth WV.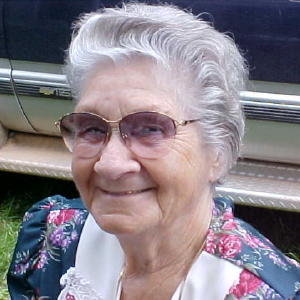 Lula Starcher Hughes
By Bob Weaver
Born in 1916 near the Village of Hur, Lula Starcher Hughes is a walking, talking history book, remembering the names of families, who married who and the names of their children, going way back.
She is now 103 years old, December, 2019.
Lula, the wife of the late Orval Hughes, recalls events and the names of Hur kids who walked from the one-room Hur School to fetch a bucket of drinking water, or details about what happened at revival meetings and baptisms.
"Cecil Hughes and Ira Bryner finally drilled a well at the school, so we didn't have to walk up the hill to a house in Hur," she said.
Lula is about the last connection this community has regarding life during the earlier part of the 20th Century.
While attending her home church at Hur, she said "We often walked 20 miles or more going to the other churches at Joker, Richardson or Barnes Run."
"We went to every funeral of people we knew," she said. Lula still attends the Cremo Community Church.
She remembers the Village of Hur as a community of people centered on church life, with stores, grist mills, a telephone switch office, a school and a lodge hall.
She recalled the history of Buckhorn Hollow where she spent her early life. In the hollow was the Paulcer McCune house (a Civil War vet whose life and times are recalled on the Hur Herald), and up the hollow where she lived, residents Miles and Rebecca Starcher Miller, and the home of her parents Grover and Rosa Belle Adams Starcher.
At the very head of the hollow was the log home of her grandparents, Henry and Nancy Riggs Starcher. "I remember when it burned down in 1928," Lula recalled.
"It's been a great life, thanks to the mercy of Christ," she said.
Her children, grand-children and extended family will be celebrating her life.
See LULA HUGHES HONORED FOR SERVICE TO CREMO CHURCH