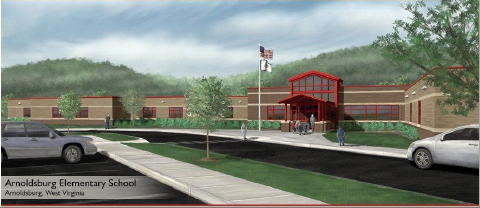 2013
The $8.8 million dollar Arnoldsburg Elementary School will be dedicated Friday, Dec. 13, with the dedication ceremony to be held in the new school gym starting at 1:30 p.m.
An open house tour of the facility will be available to parents and the public starting at 1 p.m. and tours will be offered after the dedication ceremony, according to Calhoun Superintendent Roger Propst.
"I encourage everyone to come out and see this beautiful new facility," said Propst.
Money to build the new school was approved by Calhoun taxpayers, with funding from the WV School Building Authority.
The school is officially scheduled to open for students on Thursday, January 2, 2014; the first day back to school after the Christmas holidays.
Dr. Mark Manchin, Executive Director of the West Virginia School Building Authority, will deliver keynote remarks during the ceremony.
DEDICATION PROGRAM
National Anthem - Autumn Blair, Calhoun High School Senior
Invocation - Reverend Shelly Mace
Musical Medley - Arnoldsburg Elementary School Students
Pledge of Allegiance - Allison Brannon, Fourth Grade Student
Welcome - Jeannie Bennett, Principal
Opening Remarks - Roger Propst, Superintendent Calhoun County Schools; Mr. Stephen Whited, President Calhoun Board of Education
Remarks - Dr. Mark Manchin, Executive Director West Virginia School Building
Authority PowerPoint - "The Dream Unfolds"
Closing Remarks - Roger Propst, Superintendent
Open House Tours
See related stories PROGRESS ON SCHEDULE FOR NEW ARNOLDSBURG SCHOOL
ARNOLDSBURG SCHOOL GROUNDBREAKING 'ABOUT THE CHILDREN' - Project Costs Hit $8.8 Million, MHHS Boosts Project With $100,000 Health Facility