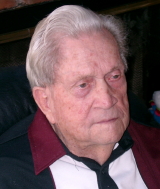 Terry Doyle Vaughan, 102, of Jacksonville, FL died on November 5, 2013.

He was born on February 22, 1911, in Elmira, Braxton County, West Virginia, the son of Edna Heinzman and Squire Lee Vaughan.

In addition to his parents, he was preceded in death by his wife, Zella Hall Vaughan; two sisters, Glenna Nichols and Erie Hollister; his daughter, Barbara Barna, and his grandson, Scott Barna.

Survivors include his sister, Helen Cobb of Charleston, WV; his son and daughter-in-law, Edwin and JoAn Vaughan of Woodside, CA; four grandchildren, Sherri Johnson of Jacksonville, FL, Joseph Lee Vaughan of Riverside, CA, Laura Vaughan Lange of Woodside, CA, and Stephen Doyle Vaughan of Redwood City, CA; eleven great-grandchildren, and one great-great grandson.

Doyle was married to his wife Zella for seventy years. For many years he was a member of the First Baptist Church of South Charleston, WV and Grace United Methodist Church of Merritt Island, FL. Doyle served in the navy during World War II and for twenty-eight years worked for the Union Carbide Corporation in South Charleston, WV.

A funeral service celebrating his life will be held at the Albert's Chapel Methodist Church at Sand Ridge, WV Sunday November 10, 2013, 2:00 pm. Friends may call at the church from 1:00-2:00 pm prior to the services.

Local arrangements are being handled by the Stump Funeral Home of Grantsville. He will be buried beside his wife of seventy years, Zella Hall, who preceded him in death. In lieu of flowers, memorials should be sent to the Elmira Baptist Church, Duck WV, 25065.