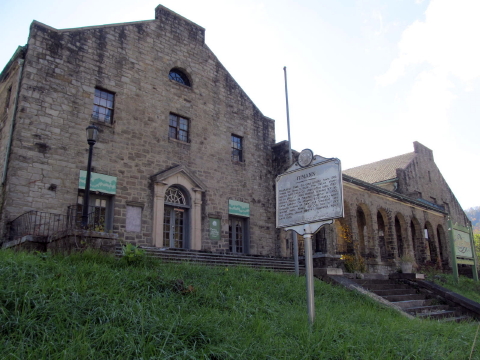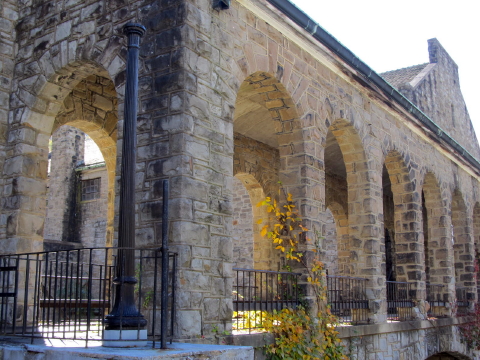 It is likely WV's most impressive coal camp store from
1923 at Itmann, Wyoming County, where Pocahontas Coal
once shipped 200 company houses by rail to the coal town
By Bob Weaver 2013
On a southern journey on State Route 16 in Wyoming County, an old Pocahontas Fuel company store and office at Itmann is on the National Register and is worth a stop.
Route 16 weaves its way from St. Marys to WV's southernmost town, War.
A further south into Mullens reveals a town that is a ghost of its former self, a statement of the disappearing coal industry and a victim of major floods.
Left behind is a hopeful sign: "Tough Times Don't Last, Tough People Do."
The Itmann structure was designed by noted architect Alex B. Mahood and built in 1923-1925, a Classical Revival style complex built of native sandstone.
It consists of four sections laid out in an open courtyard plan.
The Pocahontas Fuel Company mine was opened in 1918 by Isaac T. Mann. During the 1950s and 1960s it was the most productive mine in West Virginia, employing around 500 miners.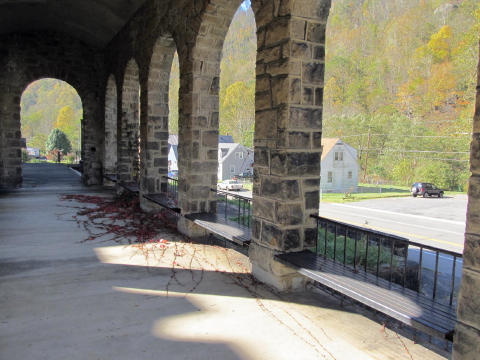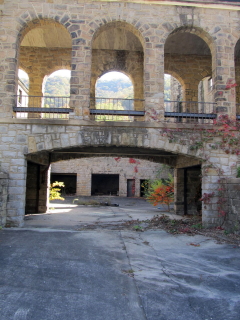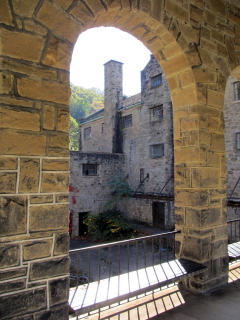 On the National Historical Register,
the huge stone complex stands vacant
There was a large methane explosion in 1972 killing five miners and with three injured.
The impressive structure stands vacant.
FADING MULLENS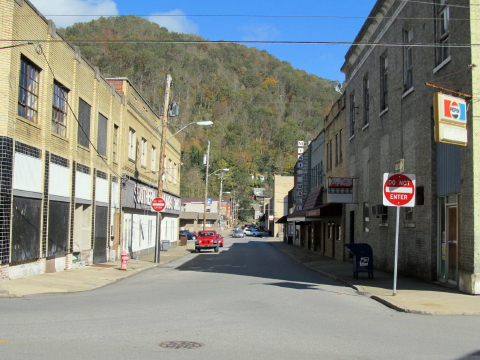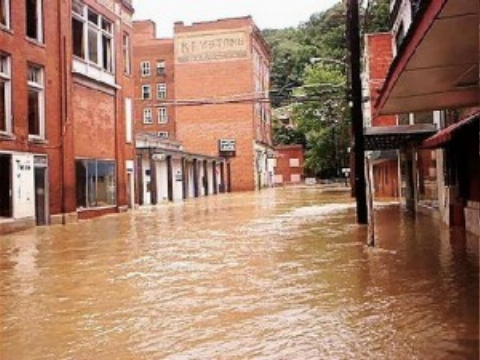 Mullens, an already declining coal town, was struck
by a flash flood in 2001, causing more abandonment
Nearby Mullens, with a population of 1,559, is a shade of its former self, with the decline of the coal and lumber industry, and a victim of a tragic 2001 flash flood that left up to three feet of mud in the business district.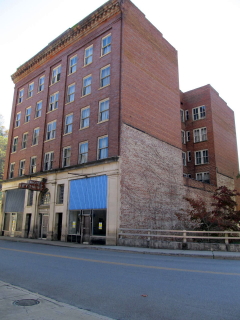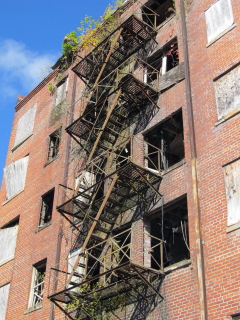 The giant Wyoming Hotel in Mullens, long vacant, stands
with windows out and curtains blowing in the wind, vines
taking over the interior, recalling the town's glory days
While the town has attempted to redevelop with the aid of state and federal recovery money, many local businesses and residents left the area permanently, moving toward a ghostly existence.