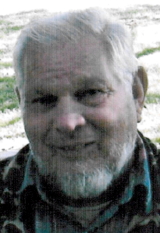 Howard M. Lockhart, 81 of Newark WV, passed away Sept 29, 2013 at Arbors at Marietta, after an extended illness. He was the son of the late Kelly and Dessel Woodring Lockhart.

He worked at the Little Kanawha Nursery of Newark WV for 45 plus years, and enjoyed gardening, hunting, fishing and playing with his dog "Skees".

He is survived by his wife of 51 years Ruth Ledsome Lockhart; 2 sisters, Florence (Frank) Sandy of Spencer WV and Ida (Frank) Sidwell of Elizabeth WV; 2 bothers, Francis Lockhart of Burning Springs WV and Kelly Lockhart of Elizabeth; several nieces and nephews.

He is preceded in death by both parents; 3 brothers, Noah, Harley and Burley Lockhart; and 1 sister, Gay Lockhart.

Services will be Wednesday October 2, 2013 at 1:00 pm at Matheny Whited Funeral Home of Elizabeth WV. Visitation will be Tuesday October 1, 2013 6-8 pm.

Interment will be at Rector Cemetery Burning Springs.