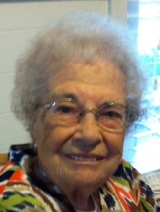 Ruth Roberts Lee Davis, 98, of Seguin, Texas, formerly of Spencer, W.Va., went home to be with the Lord on August 8, 2013 at the Guadalupe Valley Nursing Home in Seguin.

Ruth was born June 29, 1915 to the late James Samuel and Martha Ellen Bailey Roberts in Zona, W.Va. Later, the J S Roberts family moved nearer to Spencer, West Virginia, to Colt Ridge.

Ruth was their last surviving child of eight. In addition to her parents and siblings, she was preceded in death by her first husband, Harmon Lee in 1987; a son, Ronald Lewis Lee in 1976; and her second husband, Sam Davis in 2007.

Ruth married Otto Harmon Lee in 1938. Ruth and Harmon had two children, a son, the late Ronald Lewis Lee; and a daughter, with whom she made her home, Cheryl Ellen Lee and her husband, Ray Brown of Seguin.

After the death of Harmon, she married Sam Davis. Both, at the time, were in their seventies. They successfully blended their lives for 18 years, enjoying their two families and life between Sam's home in Grace Community and Ruth's home in Spencer.

Ruth's career as a Secretary began in 1938, ending with retirement in 1977. From 1958 through 1968, she successfully administered the position of Clerk of the Selective Service System of Roane County's Local Board.

Ruth was a lady whose life crossed many generations. Ruth is survived by one child, five grandchildren, eleven great-grandchildren, and five step daughters.

She was a woman of character and charm, an engaging conversationalist. Anyone who had known her can say they are blessed. She worshiped and served the Lord her entire life, was a member of United Methodist Church in Spencer and an associate member of Cross Church in Seguin, Texas. Ruth's Texas family and friends gather in her honor for church services with her church family and pastor, the Rev. Jim Price at Cross Church, August 25th at 10:15 a.m. You will be missed, Ruth.

Ruth's graveside service will be held at Eventide Cemetery, Spencer, W.Va., September 7 at 11:00 a.m., with the Rev. Larry Greathouse, Pastor of Gilboa Baptist Church in Grace Community and the Rev. Homer Hensley, minister of United Methodist Memorial Church of Spencer, officiating.

Directly following services, all are welcome to visit together for fond memories with food being served at her home on 106 5th Street in Spencer, until 2:00 p.m. Parking for this gathering will be at the Apostolic Faith Chapel at the corner of Elm and 5th Street at 140 Elm Street.

In lieu of flowers, please donate in memory of Ruth Lee Davis to the Memorial Scholarship Fund of one of these churches: Cross Church, 814 N. Bauer Street, Seguin, Texas 78155, United Methodist Memorial Church, 509 Market Street, Spencer, WV 25276, Gilboa Baptist Church, (Grace Community), P.O. Box 437, Spencer, WV 25276.

Online condolences may be expressed at taylorfuneralhomeinc.com

John H. Taylor Funeral Home, Spencer, is assisting with the local arrangements.