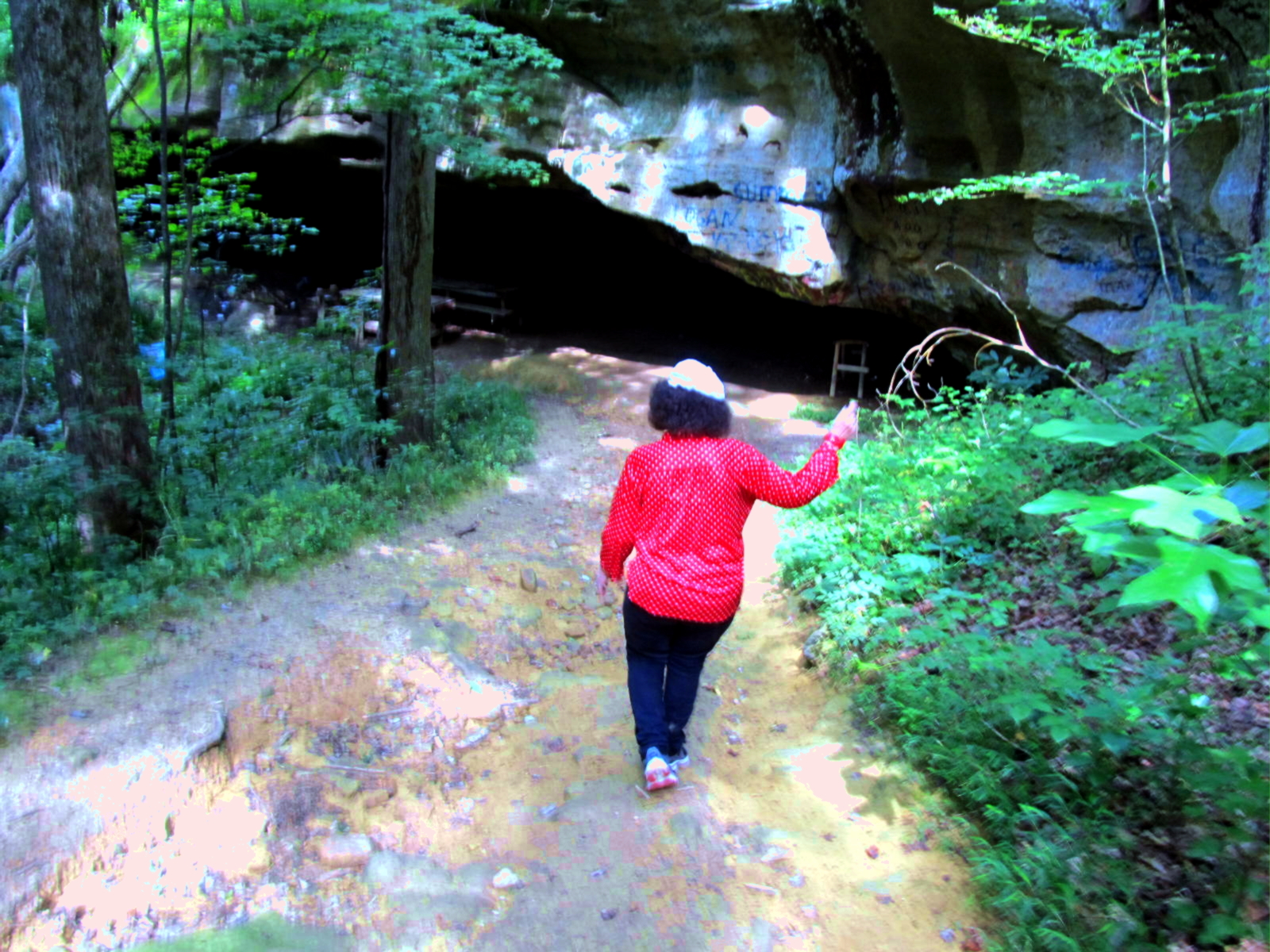 On her 86th birthday, Ruby Kyer Burkhimer returns from Ohio
to her Bear Fork wilderness home, walking down the rocky, steep
hillside to her playground of the early 1930s - "Fetty's Cave"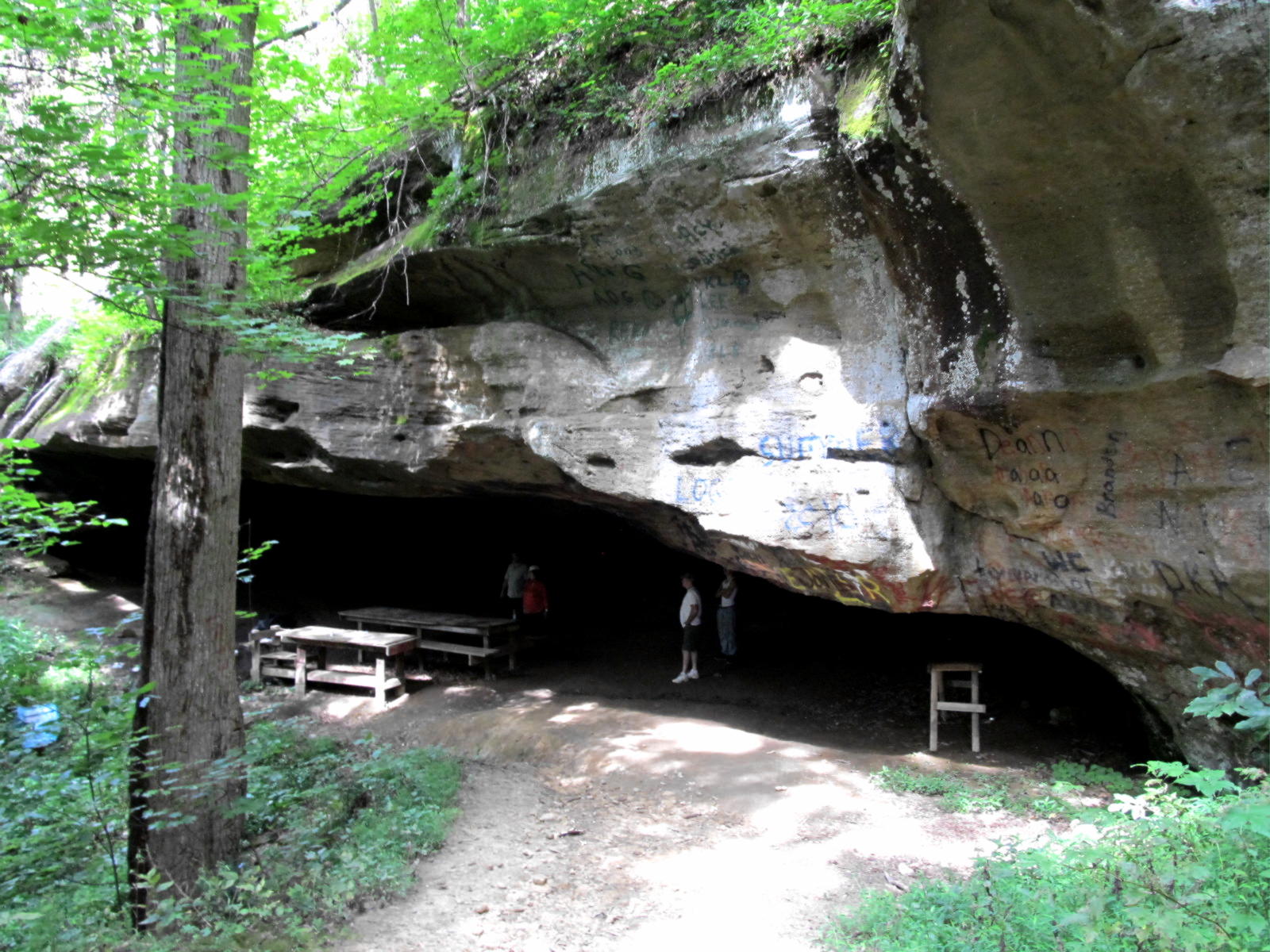 Fetty's Cave has attracted Native Americans, early wilderness
travelers, Civil War soldiers, outlaw gangs, hunters, Sunday
School picnics and present day ATV and dirt bike riders
Introduction: We live in a busy world, and readers tend to quickly scan stories. It might be worth your time to read about this incredible woman who grew up in a two-room log cabin with 16 siblings, and had never been out of the Bear Fork deep woods until she was a teenager.
The Bear Fork Wilderness once had about 20,000 acres within its confines, owned for many years by the Bennett family heirs. Among its earliest settlers (early 1800s) was Jacob Boone, whose family claimed he was the illegitimate son of Daniel Boone. He is buried there.
Bear Fork lies in parts of Calhoun, Braxton and Gilmer County.
A couple dozen families settled in the wilderness, none actually owning any land, but building homes with up to three generations living there.
Bear Fork has spawned many treacherous tales, from hidden treasure to mayhem, the occupation by Native Americans to a hide-out for outlaw gangs, to Civil War escapades and Sunday School picnics at Fetty's Cave.
The timbering of the area by Standard Oil during the first decade of the 20th century with the construction of a narrow gauge railroad to get the logs to the mainline at Gassaway, to a nearly 125 year history of the famous Bear Fork Hunting Club.
2013: WILDERNESS WOMAN RISES FROM BEAR FORK
Ruby Kyer Burkhimer returned from Ohio to Bear Fork on her 86th birthday on August 17, 2013 to relive her childhood memories of playing in Fetty's Cave in the early 1930s.
She came with family members and friends to visit the cave, certainly relieving concerns about her mobility to walk over a steep, rocky hill to get there, leading the pack, alert and vibrant at 86.
This story is about her most humble beginnings and the will of a woman to find her way in the big world and survive.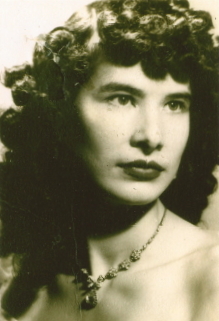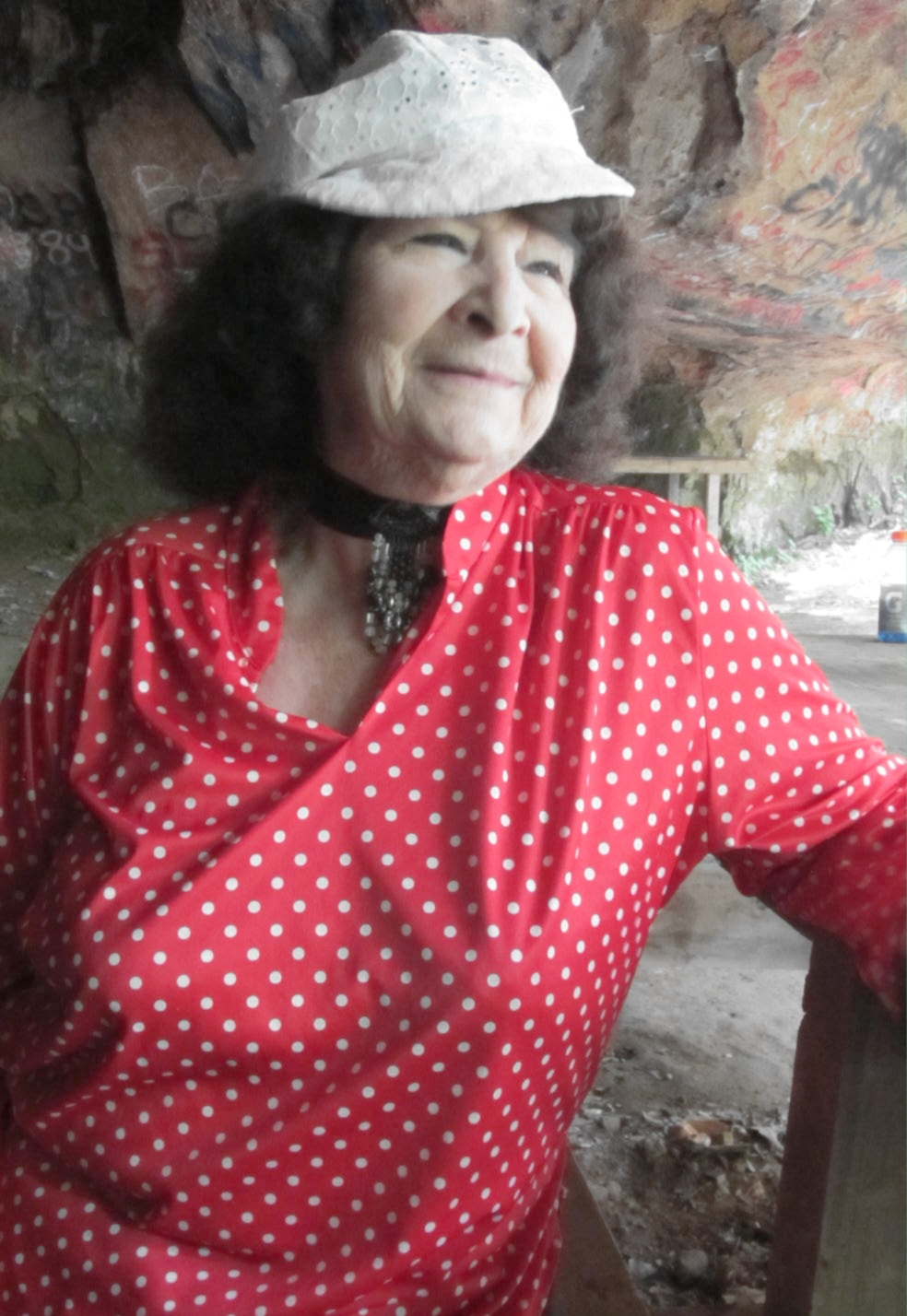 Ruby Kyer as a young woman (left) and on her 86th
birthday, August 17, 2013 on her return to Bear Fork
By Bob Weaver August, August 2013
In the early 1930s, Ruby Kyer said she walked side by side with a mountain lion, knowing not to look at it in the face or break and run.
"I learned not to be afraid of the wild animals, from bear to wildcats, but I was scared to death of people," coming of age in Buckshorn Holler.
"I threw rocks at rattlesnakes to hear them rattle," while digging May Apple and Ginseng and raising food in the gardens. It was constant work."
"Few people came past our cabin and most of never rarely left the woods," recalling some Bear Fork families like the McCunes, Cottrells, Marks, and Groves.
"They were always telling tales about Jesse James killing people in Bear Fork, but there were lots of other treacherous stories about people getting murdered, many which which were true."
"They always said all the bad people come to Bear Fork."
"I never had a pair of shoes or a real coat as a child , and wore feed sack dresses, holes cut out for a head and arms. The older boys had shoes."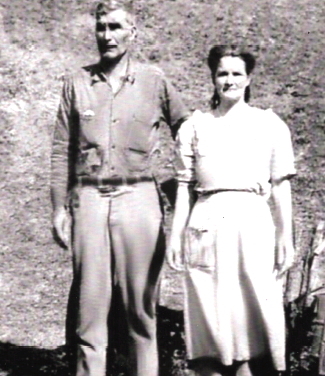 Ruby's parents, Bear Fork born Solomon "Saulie"
Kyer and wife Myrrer Marks Kyer, were married
in 1917 and had 17 children in two-room cabin
Minter (1863-1945) and JuliaAnn Cottrill Kyer, Ruby's
grandparents, settled in the wilderness in the 1800s,
JuliaAnn was the daughter of early-comer Solomon Cottrill, she
was a mid-wife, delivering all 17 children of her sons family
Until she was in her teens and moved to the Nicut area, Ruby had never been out of the wilderness, although her father had taken some of the older boys to the store at Arnoldsburg or Sand Ridge.
"Us kids (17 in all) never went to school," she said, teaching herself to read and write years later, with one room schools always far away from their cabin.
They lived in a two-room cabin, with all the children sleeping in one room, except the newest baby that slept with her parents.
"There was never any stove in the sleeping room," she said, keeping warm by body heat.
"What kept us alive had to be God."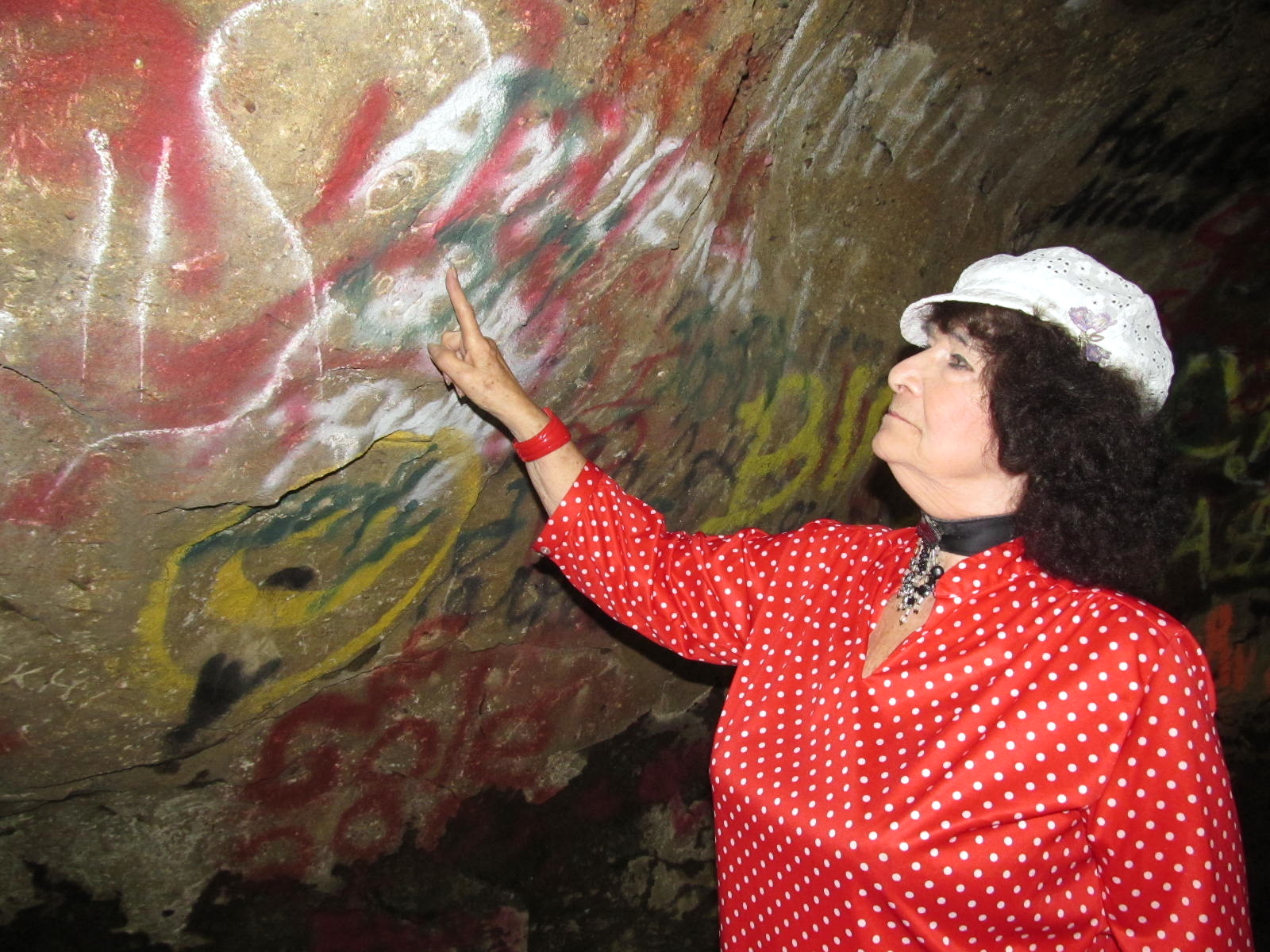 Ruby discovers 1931 initial carvings done by individuals
during her time growing up in the backwoods, while
lamenting that someone several years ago stole a
long-engraved "Indian head" engraved on the cave ceiling
"Dad always said girls didn't need to go to school, that the men would always take care of them."
When Ruby was 18 in 1945, her father bought her a one-way Greyhound bus ticket to Parkersburg, flagging the bus down on Sand Ridge. After spending three days in the bus station, "They kicked-me out."
Hungry, she saw people going into a diner and ordering up food, and she followed suit, having no money.
"It was embarrassing to me, but they put me to work washing dishes for the meal," she said, which began a career working in restaurants and she was able get money to rent a sleeping room. After a couple years, she bought bus ticket to Akron, Ohio, where her sister lived, and Ruby left West Virginia.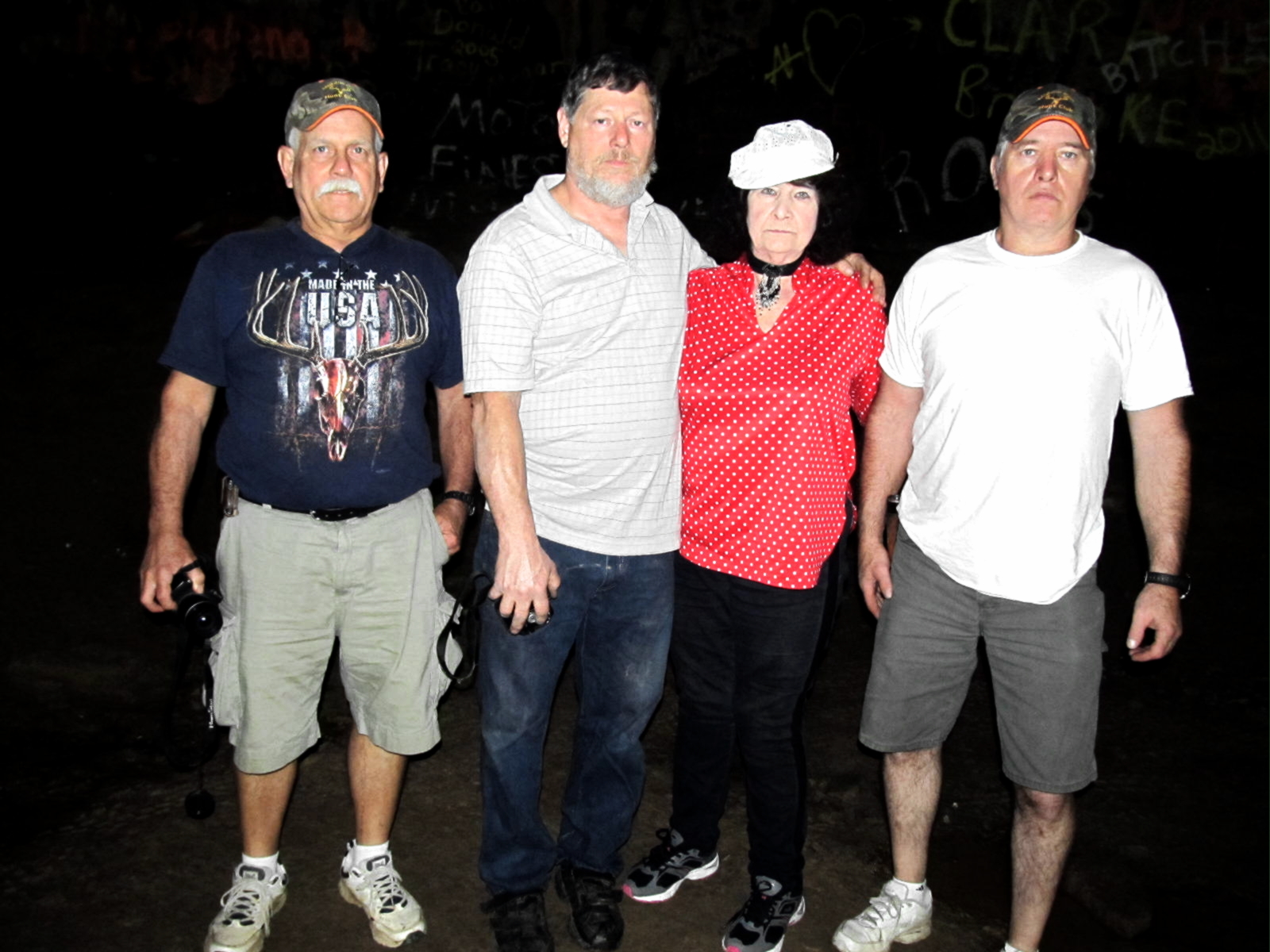 Ruby's group visits Fettys Cave (L to R) Larry Powell (a Calhoun native), J. R. Burkhimer, Jr., Ruby Kyer Burkhimer and James Mason

"I know some people might think it was a cruel thing what my dad did, but it was by far the best."

"My dad couldn't sign his name, but he was an intelligent man who used the survival skills he had learned from his Bear Fork parents."

"They did the very best they could."

Ruby has been married twice, marrying her first husband at age 21. "He was an alcoholic, but I didn't understand what that was." She has now been married to Elmer Burkhimer, Jr. for 35 years.

Ruby continued to work, raise her children and live her live in the Akron area.

Of the seventeen Bear Fork children in the family, ten are still living.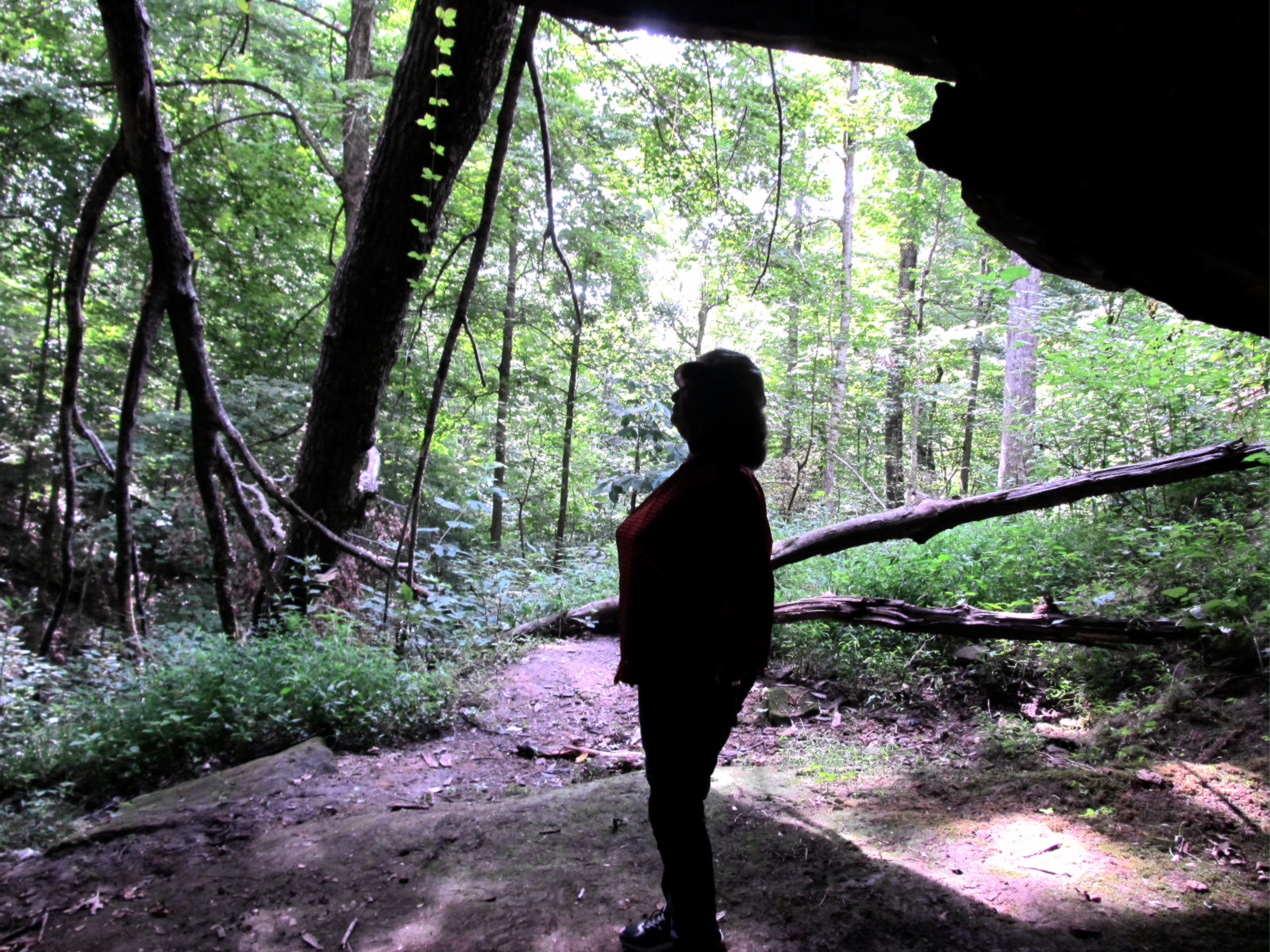 "I learned how to survive and make it
in this life, often the hard way"
Postscript: Meeting Ruby and her family has been a highlight while doing the Hur Herald, and I am going to try and not whine about the pitiful annoyances in my own life, going forward. - Bob Weaver
Read BEAR FORK TALES under People, Humor and History