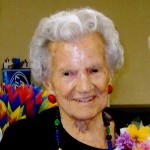 Brunna Louvern Stalnaker Arnold Penman, 104, of Fountain of the Sun, passed away Tuesday July 9, 2013 at the Springdale Village in Mesa, AZ.

She was born June 6, 1909 in Minnora, Calhoun County, West Virginia to Clark and Nora Stalnaker and was one of 10 children.

She was an Elder of the John Calvin Presbyterian Church, past business owner with her husband in West Virginia and Arizona, and devoted her life to her family.

She was preceded in death by her first husband of 40 years, Doyle Van Arnold; her second husband of 17 years George Penman; her loving daughter, Berniece Tucker Scharff; a granddaughter, Stephanie Arnold, and eight siblings.

She leaves her loving memories to be cherished by her son R C Arnold and daughter-in-law, Kathryn Arnold, her son, William Arnold and daughter-in-law, Kay Arnold, her son, Lowell Arnold and Marilynn Pustelak; her sister, Naomi Simms; her step-son, George Penman Jr. and wife, Linda Penman; her step-daughter, Bonnie McGovern and husband Jerry; many Arnold-Stalnaker nieces and nephews; 8 grandchildren, 12 great-grandchildren and 13 great-great-grandchildren.

A memorial service will be held at 11:00 am Saturday, July 20 at Mountain View Funeral Home Chapel, 7900 E. Main St., Mesa, AZ. In lieu of flowers the family requests memorial donations be made to Banner Hospice, 202 E. Earll Dr., Suite 160, Phoenix, AZ 85012.