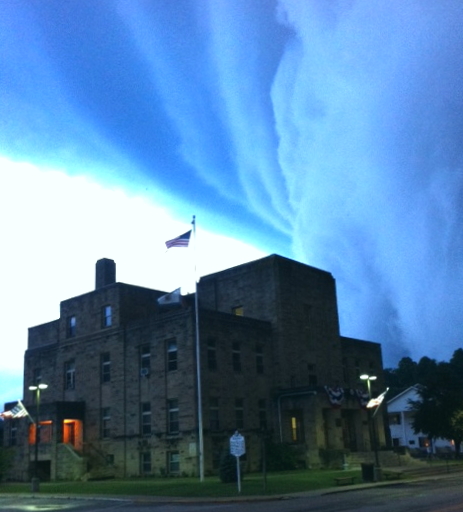 July 1, 2013 - A giant, spectacular cloud formation in the sky over
Grantsville above county courthouse (Roger Jarvis Photo)
By Bob Weaver
A reader suggested we come up with a photo that portrays the fear that many people are feeling in Calhoun County and around the USA related to the COVID-19.
As analysts warn that the country is surely entering a recession, millions off the job, and the government grappling to close the gap with tests, medical supplies and breathing machines for providers, the pressure falls upon every family.
In a cruel paradox, the very steps that are needed to contain the outbreak — quarantines, travel restrictions and business closures — are bringing everyday business to a halt and shoving the U.S. economy into recession for the first time since 2009.
It is a health crisis like none other in modern times.
The worst is yet to come.
Perhaps within the cloud is some off-the-lip stances taken by politicians in the past few weeks.
We acknowledged that things are bad when Gov. Justice just ordered the closure of hair salons and barber shops.
The hope is also within the terrible storm clouds in the photo.
They will pass.
Meanwhile, we are hopeful that mountain people in the backwoods will look out for each other.