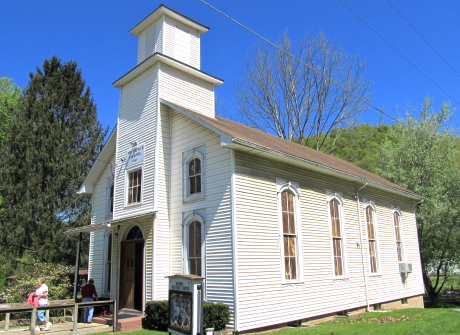 A Minnora church has had its doors open for over 130 years.
In recent years the church has received a number of improvements and has one of the most pictorial sanctuaries in the county.
One of the historic features is the rear balcony, which is accessed by a steep set of spiral steps.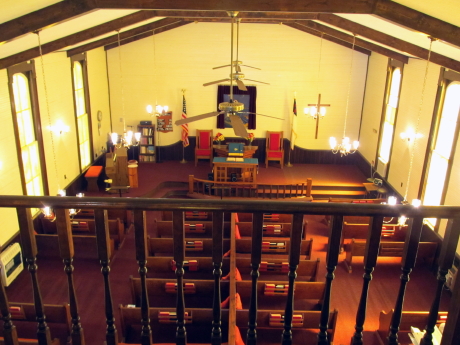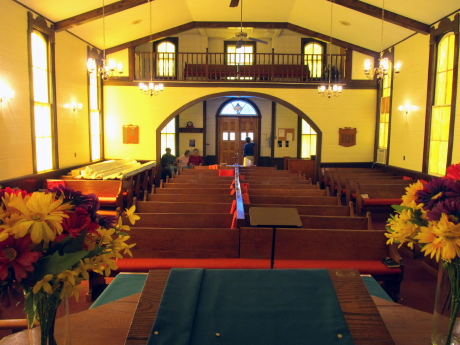 Church has pictorial sanctuary
parishioners are continuing with improvements
The church was established in 1891, named for Prudence Arnold, wife of Confederate soldier and pioneer Absalom Knotts.
North of the church is one of the counties largest cemeteries, also named after Prudence Arnold Knotts. It is situated on a hillside above State Rt. 16 and the West Fork of the Little Kanawha, therein resting a number of the counties earliest settlers.
See 2006:OLD REBEL SOLDIER HONORED AT MINNORA - Pvt. William A. Bailey (1839-1910)
Also 150 YEARS AGO: GRAND OLD LADY MINNORA KNOTTS PROUDFOOT - Life Through The Civil War, "We Saved Our Cat And Mother's Side Saddle"
And "PATHS OF GLORY LEAD BUT TO THE GRAVE" - Ms. Prudence's Burial Ground Of Calhoun Pioneers