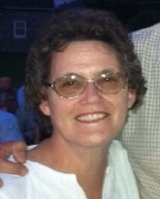 Mary Sue Frashure Osborn age 63, of Ellis Road, Linn, West Virginia, departed this life at 3:30 a.m., Saturday May 4, 2013 at her residence following a brief illness.

Born November 5, 1949 in Gilmer County, West Virginia, daughter of the late William Earl and Minnie Fern McHenry Frashure.

Sue was a homemaker who loved to take care of her family, cooking, gardening, sewing, and quilting. She was a member of the Otterbein Methodist Church and enjoyed West Virginia University sports with a special interest in their Basketball program.

On October 4, 1974 she was united in marriage to Kenneth Osborn Jr., who survives at their Ellis Road home.

Also surviving are 2 daughters, Susan Hornbeck and husband Doug of Parkersburg, West Virginia, and Kelly Osborn of Parkersburg; 2 grandchildren, Caleb and Leah Hornbeck of Parkersburg; 9 siblings, Billie Radcliff and husband Arnold Sam of Weston, West Virginia, Beulah Robinson of Tanner, West Virginia, Lou Runyon and husband Denzil of Normantown, West Virginia, Ann King of Alum Bridge, West Virginia, James Frashure and wife Nadine of Parkersburg, WV, Ronald Frashure and wife Nancy of Glenville WV, Larry Frashure and wife Joy of Glenville WV, Faynell Gainer and husband Terry of Weston WV, Jerry Frashure and wife Cheryl of Parkersburg WV; and 1 cousin whom she was raised with, Avin Lowther and wife Elizabeth of Linn, West Virginia.

Along with her parents, Sue was preceded in death by her aunt and uncle Alva and Buryel Lowther who raised her from the age of 5.

Funeral Services will be conducted at the Ellyson Mortuary Inc., 2 Vanhorn Drive, Glenville WV 26351 at 12:00 noon, Tuesday, May 7, 2013 with Pastor Bryon Bukovesky officiating. Burial will follow in the Alice Cemetery, on Alice Road. Friends may call from 10:00 a.m. - noon, the funeral hour on Tuesday at the Mortuary.

In lieu of flowers the family requests memorial contributions be made to the Glenville First Baptist Church Cancer Fund or Hospice Care Corp. of Burnsville.

Ellyson Mortuary Inc. is assisting the family of Mary Sue Osborn with arrangements.