WWII VETERANS AWARDED FRENCH LEGION OF HONOR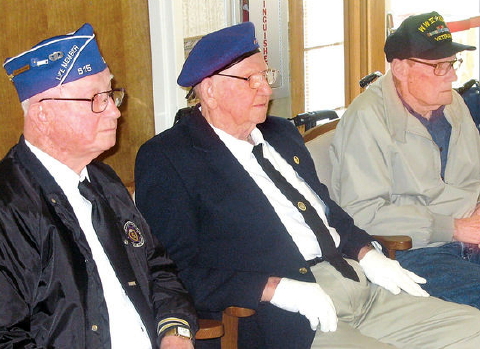 From left, Holly D. Eagle Jr., Denver R. Gandee and Walter
Criss at a ceremony Saturday at the Parkersburg Care Center
recognizing them for receiving the French Legion of Honor
for their service in the U.S. Army in World War II in France.
(Photo by Jess Mancini for www.newsandsentinel.com)
All are now deceased.
WWII VETERANS AWARDED FRENCH LEGION OF HONOR
By Jess Mancini - Parkersburg News and Sentinel
PARKERSBURG - Three decorated World War II veterans on Saturday were recognized for receiving the French Legion of Honor for their service.
Walter Criss of Spencer, Holly D. Eagle Jr. of Mt. Zion and Denver Gandee of Spencer were feted at the Parkersburg Care Center on Gihon Road in a ceremony organized by the Marine Corps League and emceed by Thomas Coakley, local veterans services officer. Coakley nominated the three and brothers Denver and Donzel Walbrown of Spencer for the Legion of Honor, who also received the award.
The Legion of Honor was established in 1802 by Napoleon to recognize military service to France and was divided into five degrees, chevalier, officier, commandeur, grand officier and grand croix. It has evolved over the years and expanded to include civilian segments, including filmmakers and sports champions.