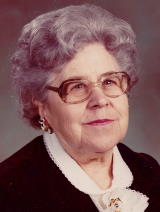 Geneva Queen Farnsworth Adams, age 92, of Cox's Mills, West Virginia, departed this life on April 13, 2013 at the Camden-Clark Medical Center, Parkersburg, West Virginia, following an extended illness.

Born August 8, 1920 in Gilmer County, West Virginia, daughter of the late Ivan and Bonnie Queen Farnsworth.

Mrs. Adams was a graduate of Troy High School, class of 1939 and a graduate of Glenville State College, class of 1942. She retired from the Ritchie County Board of Education, where she was a teacher and Principal for 34 years. During her time in the education field she taught school in Gilmer County at Cox's Mills, Pine Grove, Gilmer Station, Oak Grove, and Rosedale. While in Ritchie County, she taught at Lawford, Auburn and Smithville.

She was a member of the Glenville chapter of the Order of the Eastern Star. Geneva had a special interest in spending time with her grandchildren and great-grandchildren. She was a member of the Troy Baptist Church and recently attended services at the Horn Creek Baptist Church.

In November 1945, she was united in marriage to Glennard S. Adams, who preceded her in death on April 7, 2008.

Surviving is 1 daughter, Barbara Beall and husband Doyl Jr. of Cox's Mills; 1 son, David Adams and wife Sandy of Mineral Wells West Virginia; 3 grandchildren, Jennifer Berg and fiancé Brett Hartwig of Petersburg, West Virginia, Jodi Law and husband Jamie of Harrisville, West Virginia, and Heidi Smith and husband Donald of Parkersburg, WV; 8 great-grandchildren, Ruger and Brogan Law, Bryce and Payton Berg, Carter and Carson McMinn, Mikayla and Brayden Smith; 1 sister, Isabell Reeves of Charleston West Virginia; and 1 brother, Keith Farnsworth of Vienna, West Virginia.

Along with her husband and parents, Geneva was preceded in death by 1 infant son, Kyle Duane Adams, and 1 sister, Lorena Simmons.

Funeral services will be conducted at the Ellyson Mortuary Inc., 2 Vanhorn Drive, Glenville, WV. 26351 at 1:00 p.m. Thursday, April 18, 2013 with Pastor David Sommerville and Pastor Dwight Goff officiating. Burial will follow in the Troy IOOF Cemetery, Troy, WV. Friends may call from 5-8 p.m., Wednesday evening at the Mortuary.

Ellyson Mortuary Inc. is assisting the family of Geneva Adams with arrangements.