This fascinating outhouse had some modern conveniences
By Bob Weaver
This is a story about the outhouse of a historical Calhoun family.
The George Washington Hardman, Jr. manor house on Barnes Run was built after the Civil War, the family being among Calhoun's shakers and movers in the late 19th century through the mid 1950s, delving in politics, business and agriculture, their farming activities on a wide scale.
The Hardmans, at one time or other, hired just about every able bodied man and woman within miles of the homestead. I have in my possession a ledger with at least 100 names of people they hired in the 1920s and how much they paid them.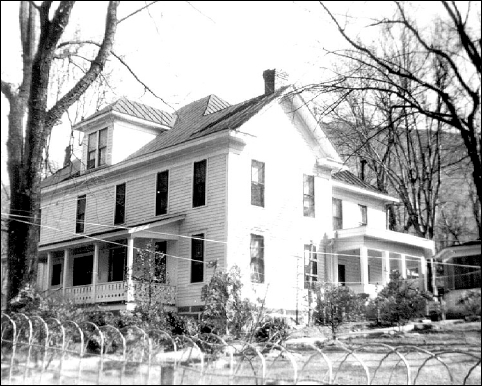 The large Hardman manor house during its earlier days
The Hardman manor house was a hub of work activity, the cooks often preparing a mid-day meal for 25 or more people, some of them boarding on the property, while others lived in tenant houses.
It is likely the house got indoor plumbing early, while most of us continued to use outhouses through the 1950s, including my family.
It is fascinating that one of the Hardman's outhouses is still standing, a reminder that most such conveniences were rather simple, the Hardmans were ahead of the time.
The Hardman outhouse, a two seater, had steel bowls covered with porcelain, topped with comfortable seats that were spring-loaded.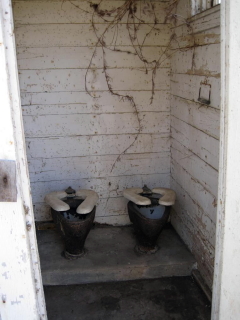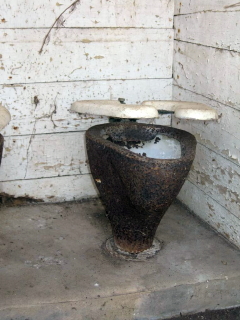 The outhouse was a friendly two seater ... flushed
with running water when customer was seated
When the customer sat down on the seat to do their business, running water from a hillside cistern would actually flush the commode into the rock and concrete chamber below, albeit the chamber overflow spilled into Barnes Run, just below.
We're pretty sure the Hardmans kept a supply of toilet paper, a treat for users, who returned to their homes to use pages from a Sears catalog or old newspapers.
Those were the days.
Now a roll of toilet paper is becoming smaller and smaller, the cardboard roll in the middle getting larger and larger, and the ply of the paper becoming thinner and thinner.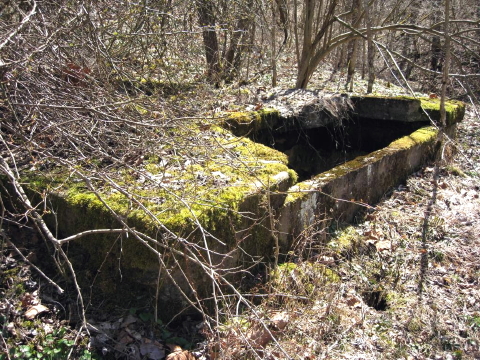 Water to flush the outhouse came from this
large, sturdy cistern a few hundred feet uphill