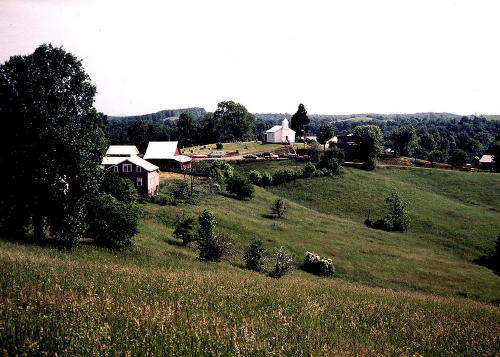 THE VILLAGE OF HUR HAS FADED EVEN MORE AFTER 25 YEARS
"Under WV's Freedom of Information Laws, passed years ago, citizens are entitled to information, not just news outlets. Since that time the laws are sometimes ignored and sliced and diced." - Bob Weaver
HERALD CEASES DAILY NEWS PUBLICATION AFTER 25 YEARS
ARCHIVES WILL REMAIN ON-LINE FOR A WHILE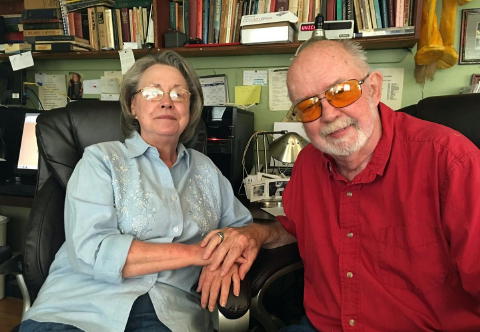 Bob and Dianne Weaver in Hur Herald Headquarters
By Bob Weaver
September was the Hur Herald's 25th anniversary, attempting to report the life and times of my beloved backwoods county, writing about its people and history, in addition to local news.
At times we have had 70,000 readers, which would have increased if we started using Facebook and other programs to up the readership.
We never set out to make money, and we haven't, but funds have kept it going. Only a couple of handfuls of Calhoun residents donated each year to the cause, most donations coming from "outsiders."
We are grateful for our advertisers.
We were unsuccessful in shutting the Herald down in 2016.
It's been a quarter century of not measuring up to getting real broadband, promised by every politician.
It's been a quarter century of Frontier's dial up service and "high speed" broadband, and going through four satellite systems, sometimes paying $200 a month for poor service.
It's been a quarter century of problems with some serious hacking, and more recently, problems with a server. Recent hacking wiped out about 25,000 readers.
The baseline costs to operate was a few thousand dollars annually, often not having enough cash.
It has also been a quarter century with a serious case of perseverance, putting in tens of thousands of hours of time and thousands of miles on a vehicle to get the news.
I'm confidant that I have traveled the 580 listed Calhoun road miles and every nook and cranny more than any other human being.
Changing times always brings thoughts about my friend, the late Calhoun Chronicle editor Mary Ann Barrows, after having received lots of "Ya got it all wrong" calls, e-mails or threats about a Hur Herald article.
I also thought about a poll that said the worst respected jobs in the USA include used car salesmen, politicians and reporters.
I have qualified for two of the three.
Now media protests have been simplified with "fake news," with just about everyone on political web sites or Facebook, where everyone has become their own writer, editor and publisher.
Communities are faced with the closure of printed newspapers.
There is little discernment about sourced news. Most US polls now say that about 50% get some of their "news" from Facebook.
Twenty-five years ago young folks flocked to read the Herald, it was new, and we published lots of school news. Now, virtually no younger people read the Herald, just old folks.
In the USA, most of the news is distributed by only five corporations. At one time TV networks had their independent news departments, now news is under their entertainment divisions, driven by money and ratings.
The entertainment business monopoly has reduced the breadth and the depth of journalism, polarizing citizens where the most money can be made.
With the addiction to social media and the election of Donald Trump, readers have become even more critical and vile, practicing egregious incivility, now the new norm. A disturbing amount of incivility has been directed toward the Herald.
Perhaps recent emails would set the tone for critical comments, the writer addressing the Herald, "You're full of shit you drunk" (I've been sober 42 years)... "Die you dumpt fruck" ... "You're an idiot" ... "Libtard" ... "Die in the swamp" ... "You have the SOS every day" ... "You'll get it between the eyes."
As a county commissioner of 18 years and editor of the Herald, I never name called. Today, one would not likely get elected without doing such.
In the early days of the Herald, Mary Ann joked, "You've really put Hur on the map, but you will likely suffer a lot of dislike from the public." She further said, "They won't come to your funeral."
I had to get really tough skin ... and I have, maybe.
Mary Ann often told me about outraged customers who walked to the office to cancel their subscriptions on Monday morning, including a member of the school board.
She asked the man if he had been misquoted, stating she would be happy to make a correction. "It's not that," he said. "You're a horse's ass", after which he left to stick his head back in the office, saying "Besides, you're a communist."
Unfortunately, readers can't cancel Herald subscriptions because it's free.
Dedicated supporters donated to keep it going during the annual fundraiser, which we discontinued this year.
A caller to the Hur Herald was upset because their name and charges appeared in the magistrate's report, and another outraged about their being charged with domestic violence and possessing drugs, the story was taken directly from law enforcement's criminal complaint.
Other upset callers sometimes would say, "I thought we were friends," whiles others made lengthy comments on what was wrong with the Herald (or what was wrong with me).
Often they they were "hiring a lawyer," and some did.
Regarding our "Ya gotta it all wrong" calls, I would tell them that "I just reported it from the record and official sources."
"You need to call the people who complained on you and the police who filed the charges," I suggested, "They might have got it all wrong."
More often than not, it was "kill the messenger."
Often when people call not wanting their name used in an article, I reminded them of not making exceptions, saying I've published my own name when charges have been brought against me, more often for taking public photos of plain view public incidents.
The WV State Police, in earlier days, were displeased about photographing accidents and crime scenes, although such is legally permitted from public-right-of-way by anyone, and I have been arrested, in one case and my camera confiscated.
In Calhoun, in the past 25 years, with the exception of the tenure of Sgt. O. S. Starsick, the WV State Police have not proactively or re-actively issued public information. Since Sheriff Warren Bassett's tenure, likewise. The public doesn't seem to mind.
Still, the Herald has given them credit, when we have had first-hand knowledge of their participation in an incident.
Over the years, while covering accidents, fires or other incidents, a number of folks have produced a gun, expressing their displeasure at my presence.
At one time, folks discontented over a published story, started an Internet web site called "Up Yours Weaver," while others complained we do not use anonymous blogging after each story for comment.
My appreciation has grown for long-timers like Mary Ann Barrows, who dutifully reported the activity of the county for 40 years.
I talked with long-time reporter Bob Aaron (WCHS-TV) who was beat-up with his own equipment while filming alleged starving animals from a Clay County highway. Months later he still had a swollen leg.
A dutiful "slave" in putting it together every night for over 25 years was my wife, Dianne Weaver, who used to say while trying to upload a photo, she would cook supper and do a load of laundry, while waiting for an upload.
I could write pages about Dianne, her exemplary character, work ethic, brightness and attitude about fair play, social justice and her compassion for others.
Personally, her devotion and support over 47 years is not measurable, particularly through five years of living with me as a practicing alcoholic, and her agreement to help foster and nurture a large number of individuals facing problems who have been part of our family life, sometimes a few months, sometimes years.
In earlier days, historian Norma Knotts Shaffer, made a staggering contribution.
Still, doing stories on stalwart Calhoun men and women who have had moving stories to tell and creating massive archives of the life and times of Sunny Cal (which have been donated to Glenville State College), has personally been worth it.
I have often written that I am the blessed man, having gone into the big world and returned, having rubbed elbows and worked with people of all races, creeds, colors and religions.
We thank you.
ODE TO MARY ANN BARROWS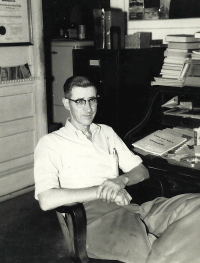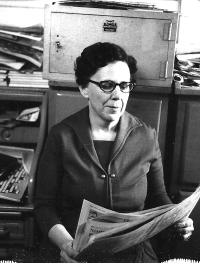 A seasoned newspaper man, Olin Barrows (left) bought
the Chronicle in 1945, and after his death in 1975,
was edited and publish by wife Mary Ann (right)
It would be hard to imagine the lines of type Mary Ann composed, read and forgotten by most.
I once joked with her about hanging tough for 40 years, and she replied, "I stayed sober," alluding that many old-time newspaper owners and editors imbibed, with a litany of tales about the escapades of former Chronicle publishers.
Mary Ann and her husband Olin came to Calhoun in 1945. "We didn't own an automobile, house, or furniture, and our $1500 nest egg had been depleted by $500 with the down payment for the Chronicle."
She said to further complicate things, she was six months pregnant.
Mary Ann had been an Army wife, she and her husband Olin lived in several states, her husband worked for newspapers. She told of living in a "refined chicken coup" during the war, to be close to her beloved husband.
"It was a pleasant surprise that we were made welcome in Calhoun." she said. To become connected to the county, Olin Barrows went door-to-door to meet people, including visiting my parents home at Hur.
Her son David said his recollections of the Chronicle was the laborious work it took to put the paper together every week, often 60 hours.
Mary Ann said a number of local people got printer's blood in their veins, recalling Gaylen Duskey, making him the Sports Editor when he was in the 9th grade. Obviously Gaylen never got over it.
The late Barbara Anderson said, "Mary Ann has been a blessing to me, her friendship, feisty independence and hard work. Beyond her public life, she was a humble person who shared her love of music and literature with husband Olin, and quietly clung to the Calhoun community."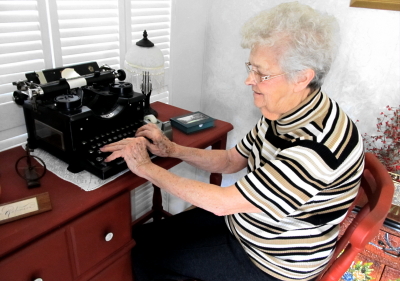 Former Chronicle employee Jackie Robinson treasures
her 1927 Royal typewriter used in the Chronicle
office through the 1970s, a gift from Barrows
Jackie Robinson of Russet worked at the Chronicle in the 1970s with Mary Ann for over ten years. "She was a gracious woman, one of the hardest working women I've ever known," she said.
"During those early years she had to deal with Linotype machines, hot lead and a giant printing press to make the paper," Jackie said.
"She was devoted to the community to make things better, and volunteered for dozens of civic projects, including the editing of the books published by the Calhoun Historical Society."
"She did not want credit for her hard work," Robinson said.
In her final years, she met almost daily for lunch with her friends - "The Silver Girls" in a Grantsville restaurant The aging women preferred not to be called "Golden Girls."
"I want you to be sure and come to my funeral," Mary Ann told me one day. "You're not planning on dying right away," I asked. "No, but when you've been in the newspaper business as long as I have, I don't expect many to show up."
"I'll be there," I said.
"Maybe you could say a few good words," she said. "You're good at it."
I did.
During the early days of doing the Hur Herald, Mary Ann told me, "If you keep doing the Hur Herald, you might have a couple people come to your funeral."
Mary Ann was a grand, hardworking woman, who passed in 2002 at age 84, my life made better with her friendship.