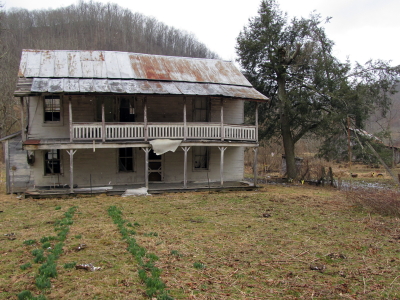 This old Nicut Road house and property near the Braxton County line has a compassionate Civil War story, owned by the Campbell family and then other families during the last two centuries, current residents of Calhoun recall it being the Claude Newell place
By Bob Weaver
The Nicut homestead's history goes back to the Civil War and the Campbell Family, with brothers Benjamin, Sida, William and John, sons of John A. and Clarinda Ayers Campbell, leaving their homestead to serve in the Confederacy.
Civil War records show them engaged in dozens of battles, most of them wounded, some nearly fatal.
Calhoun oldtimers recall Capt. William H. Campbell, a farmer, blacksmith and lumber dealer, living on the homestead during the early 1900s.
Captain Campbell served in Company E, 31st Virginia Infantry and his brother Captain Sida H. Campbell, Company K. 19th Virginia Calvary, are both buried in the nearby hillside Campbell Cemetery.
The fascinating story linked to the family is the almost mortal wounding of Captain Sida H. Campbell, Hardesty's history reporting a "shot under his right eye, the ball passing out the back of his right ear."
It is likely after this incident that Captain Campbell's wife Jennie got on a horse at Nicut and rode a few hundred miles to a site near a Virginia battlefield to visit her injured husband.
During bloody battle of that war, there was the death of a negro family that left orphan two small female children. Campbell and his cohorts rescued the children.
Jennie Campbell returned to her home on Nicut with one of the orphaned girls, who was born in 1861. "She carried before her in the saddle a tiny Negro girl," to be named Lucy Neale and then raised by the Campbell family.
"It was a long journey of about four hundred miles. All the family of the little one, except another little girl I believe, were caught in a battle and killed. The other little one was taken by another of the Captains... Captain Bragg, but I think it may have been Captain Sprigg of Braxton County, captain of Company B, Nineteenth Virginia Cavalry," according to a Hardesty historical account.
"Aunt Jennie called the little girl Lucy. She, Lucy, was fearful of soldiers," the account continued.
A 1900 Calhoun census lists Lucy Neale as living with the Sida Campbell family, age 38, listed as a servant. Sometime in the early 1900s, Lucy died to be buried in the hillside cemetery nearby.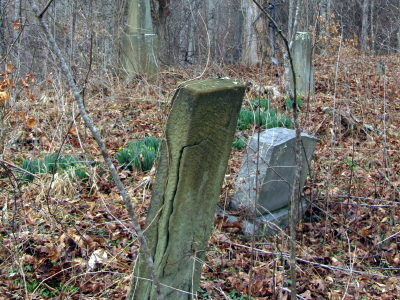 The Campbell Cemetery is grown up, buried there are the
Campbells, their adopted daughter Lucy Neale, several
others and a virtually unknown Union soldier Private
John Haymaker (1830-1901) 63rd Pennsylvania Infantry, mustered in August 1, 1861, wounded at Nelson's farm, June 30, 1862 and promoted to Corporal July, 1863.
The old Nicut house was owned or occupied by a number of families after the Campbells, according to 91-year-old Lester McCumbers, who recalls stories about Lucy Neale.
McCumber's recalled being on the property in the 1920s, witnessing for the first time the use of a steam engine to operate a sawmill, being operated by Greel Hall and Ted Vanhorn.
"It was an amazing site to for a young boy," said McCumbers, who then spent most of his lifetime working in the woods.
McCumbers recalled Earl Sears (Siers) and Dolf McClain living in the house, which was purchased in the 1930s by Claude Newell from D. O. Chennoweth family.
"I think I saw an original property deed for that place written on a sheepskin," said McCumbers.
Most Nicut residents will remember the property as being the Claude Newell place.
Claude Newell (1906-1984) was a farmer, timberman and rural mail carrier who married Mabel Edgell (1909-2006) in 1929. Their daughters, raised on the farm, are Genevieve of Arnoldsburg (married Emmons Smith) and Joyce (married Neal Arnold) of Vienna.
Mabel Newell taught at a one-room school on Mount Run.
"I recall my dad saying, during the Great Depression, he didn't have three cents to mail a letter," said Genevieve Smith. Newell carried the mail by horse, switching from horse to a car, on a route extending from Frozen Run to Orma.
"My dad bought the farm because it had some flat land. He raised livestock all his life and kept it up until he had a stroke," said daughter Genevieve Smith.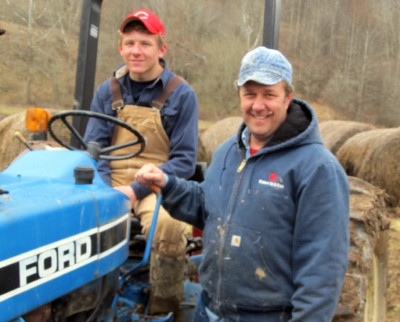 Now, in the 21st Century, Claude Newell's grandson,
Randall, and great-grandson. Nicholas, of Millstone
are still raising livestock on property.