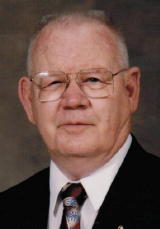 Dearman Coplin, 84, of Elizabeth passed away Wednesday, February 13, 2013, at Camden Clark Medical Center surrounded by his family.

He was born December 2, 1928, on Somerville's Fork, Palestine WV the third of five sons born to the late Rolla W. and Gertrude F. (Bibbee) Coplin; a grandson of the late Dr. Okey W. and Claudia (McGee) Coplin and nephew of the late Dr. Robert W. Coplin and Mildred (Pettit) Coplin and Postmaster Harry W. Coplin and Nelle (Hubbard) Coplin, all of Wirt County. He was named after Dr. U. L. Dearman, of Reedy WV, who delivered him and was a Christian by faith.

Dearman graduated from Wirt County High School with the class of 1947, and attended West Virginia University, in Morgantown WV as a pre-med student. In January 1952, he was commissioned as a Second Lieutenant, and attended the U. S. Army Infantry Leadership School, Fort Benning GA; then in May 1952, he taught techniques of rifle fire at Camp Breckenridge KY - 101st Airborne Infantry Division.

He served in the Korean War, from December 1952 to January 1954 where he was a Combat Platoon Leader, Company A, 180th Infantry; he was wounded and received the Purple Heart and Combat Infantry Badge. In September of 1953, he was promoted to First Lieutenant/Motor Officer, Service Company, 180th Regiment and received the Bronze Star. In January 1954, he returned to the United States, where he remained in the Reserves of the U. S. Army for 18 years and retired with the rank of Major in the Army of the United States.

In 1955, he worked for his uncle Robert W. Coplin, MD, at the original Coplin Clinic, in Elizabeth, as a medical technician. In April 1990, he retired from E. I. DuPont and Company, Washington WV, after 31 years of services having been a factory worker until his promotion to Supervisor in 1977. He was a member of Wirt Lodge No. 82 AF & AM and served as a past trustee; Scottish Rites 32 Degree, Ohio Valley Shrine Club, Nemesis Shrine, Hillbilly Clan 6. Dearman represented the Nemesis Shrine on the Board of Governors for the Shriners Children Hospital, in Lexington KY; he enjoyed being a driver for the Roadrunner Transportation Team taking children and their parents to the Shriners Children Hospitals in Lexington and Cincinnati Ohio.

He was also a member of Wirt Chapter No. 113 Order of the Eastern Star, Little Kanawha Shrine Club, American Legion, lifetime member of the National Purple Heart Association, Veterans of Foreign Wars past member of the Elizabeth Lions Club, and the Jr. Order of United American Mechanics, Palestine, WV. Dearman was in the second class of the Wirt County Emergency Squad, where he was active as an EMT, Driver and member of the Board of Directors; he received the Wirt County Emergency Squads' Outstanding Service Award in 1994.

He was also a member of the Board of Directors, Professional Committee and Nominating Committee for the Wirt County Health Services Association (which includes the Coplin Memorial Community Health Center and the Jackson County Community Health Center); a member of the Elizabeth United Methodist Church and served as past chairman of the Trustees.

He is survived by a son, D. Craig Coplin and daughter Tanya Y. Coplin of Elizabeth; one granddaughter, Ashley (Coplin) Hall of Elizabeth; and one great-granddaughter Rylee Jo Hall, also of Elizabeth; one brother, Lloyd G. and (Barbara) Coplin of North Canton, Ohio; and sisters-in-law, Anita (Combs) Coplin of Ridgeway VA, Virginia "Fay" (Miricle) Coplin of Palestine WV, and Janet (Honaker) Barr, of Elizabeth; and several nieces and nephews.

Dearman was preceded in death by his wife Violet (Honaker) Coplin; three brothers, Okey Richard (Jack) Coplin who lost his life during World War II, William Francis (Bill) Coplin and and Donald R. Coplin; and sister-in-law, Patsy A. (Sheppard) Coplin,

Matheny-Whited Funeral Home of Elizabeth has been entrusted with the arrangements. Funeral services will be conducted Saturday February 16, 2013 at 1:00 p.m. at the funeral home with the Rev. Lee Williams officiating. Visitation will be Friday February 15 from 2:00 - 4:00 p.m. and 6:00 - 8:00 p.m. and Saturday 9:00 a.m. until time of service. Interment will be in the Knights of Pythias Cemetery, Elizabeth, with Military and Masonic graveside rites.