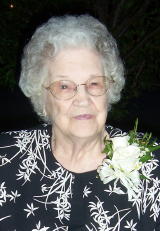 Beulah K. Huffman, 98, a life resident of Grantsville WV, peacefully entered her eternal home, Saturday, February 9, 2013, in Richmond VA at the residence of granddaughter and family with who she had lived for the past two years.

She was born in Calhoun County, a daughter of the late Samuel and Ida Ferrell Knight.

Beulah was blessed with very good health, enjoying her family. She was a member of the Enon Baptist Church serving in various capacities. For several years, she was a cook at the Calhoun County High School.

She is survived by sons Robert Huffman of Wooster OH and Roger Huffman of Waverly WV; one daughter, Sandra Reedy of Mt. Hope WV; 13 grandchildren; 29 great grandchildren; 5 great-great grandchildren; and one sister, Loretta Sampsel of Cuyahoga Falls OH.

She is preceded in death, in addition to her parents, by her husband Hunter, son James Roland as well as her grandson Eric Reedy.

Funeral services will be held Saturday, February 16, 2013, 11:00 am at the Stump Funeral Home in Grantsville with Pastor Jess Waggoner officiating. Burial will follow in the Bethlehem Cemetery in Grantsville. Friends may call from 9:30-11:00 am Saturday prior to the services.