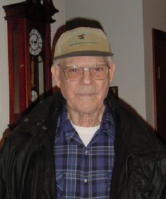 Orville "Pappy" Norman, 93, of Orma, West Virginia, died Wednesday, December 19, 2012 at Laurel Nursing & Rehabilitation Center in Ivydale, WV after a short illness.

He was born December 9, 1919 at Beech, WV and was the last surviving child of the late Isaac Homer and Lula Brannon Norman.

He was a Baptist by faith, formerly attended and was a member of the Arnoldsburg Southern Baptist Church and was a devoted family man.

Orville worked on the family farm during his early life and for years he was well known all over the community as "Jack of all trades". He was the traveling butcher, miller, blacksmith, etc. during the winter months and in summer he was the plumber, electrician, carpenter, mechanic, etc., being a self-taught tradesman with a great number of unique skills that always kept him busy helping his friends and neighbors. Later he worked in the timber industry and at Burke-Parsons-Bolby of Billings WV. He loved repairing small engines and did so until the last couple of years.

In addition to his parents he was preceded in death by his wife Teresa Wears whom he married Sept. 11, 1972; stepchildren, David Greathouse, Barbara Nicholas and twin brother William "Bill" Finkenbinder; sisters, Murl, and Irene Norman, Ona Helmick and Pearl Conrad; brothers, Bunker, Homer Jr., William and Arnold Norman.

Survivors include stepdaughters, Linda (Gary) Dorsey of Palestine WV, Diana (Mike) Sampson of Spencer WV; stepson, Timothy (Sherry) Finkenbinder of Orrville OH. Also, daughter-in-law, Shirley Greathouse of Millstone WV; son-in-law Wesley Nicholas of Orma; several grandchildren, great grandchildren, nieces, nephews, caregivers and friends at Laurel Nursing & Rehabilitation Center and his beloved dog Katie.

Funeral services will be held Saturday, December 22, 2012, 11:00 with military graveside rites at the Stump Funeral Home in Arnoldsburg, with the Rev. Carl Marks officiating. Burial will be in the Greathouse Cemetery, Orma WV. Friends may call Friday from 6-8 pm at the funeral home.