SEE ADDITIONAL PHOTOS AT BOTTOM OF STORY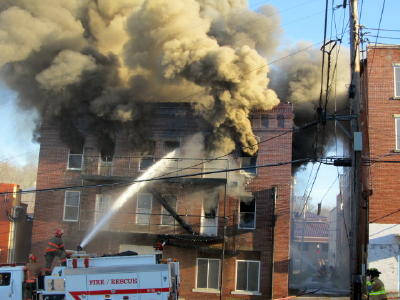 Firemen battled a downtown Spencer blaze for several hours,
fire destroying a landmark - the old DePue Hospital (Hur Herald Photos)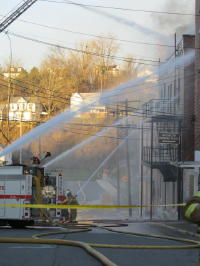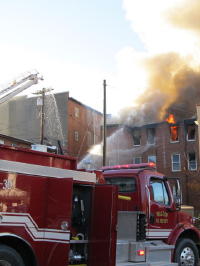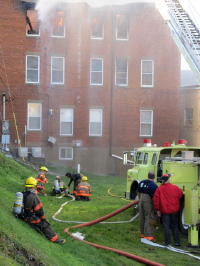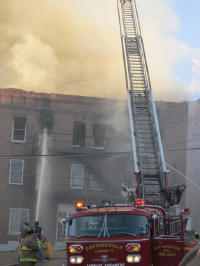 Local and regional fire departments respond to roaring blaze
4:30 PM 12/12/2012 - Fire broke-out in a Spencer landmark about 2:30 p.m. Friday, the old DePue Hospital, likely built in early 1920s. The building served as the Bailey Apartments for several years.
It was the first major fire in downtown Spencer in several years.
The fire quickly ventilated through the roof, causing the three-story building to be engulfed with flames.
The Spencer-Roane VFD quickly used water turrets to control the fire and save adjacent business structures on Market Street.
At least four families were living in the building. They lost everything.
No injuries reported.
Firemen used 800,000 gallons of water on the blaze, with a dozen or more streams of water being poured on the fire as billows of smoke rose several hundred feet in the air over the city.
Spencer Mayor Terry Williams, who said he was born in the old hospital, commented, "There's not enough water to put a fire like this out. It really takes time."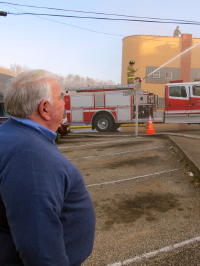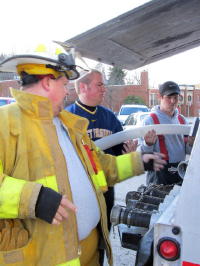 Spencer Mayor Terry Williams (left) says he was born in the old
landmark; Arnoldsburg VFD firemen prepare to help with blaze
"Firemen are doing a great job containing the fire," Williams said.
Adjacent the structure is a well-known West Virginia business, Casto and Harris, which was not damaged, although it was a few feet away.
The walls of the building were crumbling, and late Friday night a contractor razed the building as a safety measure.
Among the fire departments responding, Spencer, Clover, Walton, Reedy, Gandeeville, Arnoldsburg, Ripley and Cottageville.
A number of firemen remained at the scene until 1:45 a.m. Saturday.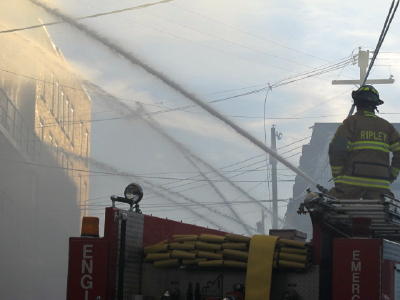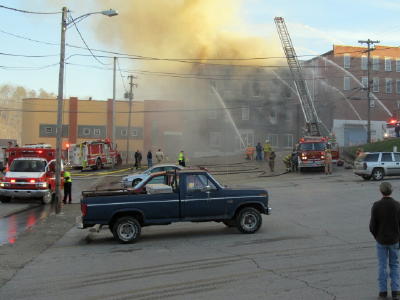 See additional photos here