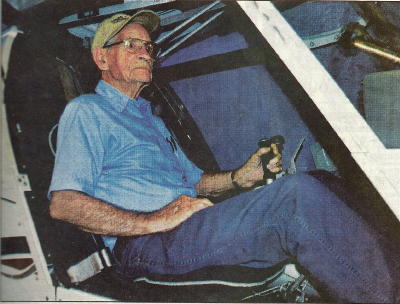 Captain Ford Rogers, 87, of Arnoldsburg WV passed away Sunday, December 9, 2012, at his home, after an extended illness.
Survivors include his wife of 63 years, Donie E. Rogers; son, Carl R. Rogers of Annamoriah; daughter, Christine Conley of Arnoldsburg; sister Doris Emogene Rogers-Myers of St. George; two grandchildren, Heather and Jennifer; three great grandchildren and two great-great grandchildren.
He was preceded in death by a son, Chester Lee Rogers July 9, 1968; parents, Gruder and Ella Gay Bailey Rogers; three sisters and one brother.
He established Rogers Used Cars and Trucks in 1964 and operated the business himself until 2011. Over the years he had several hobbies, but the one he enjoyed the most was flying his small airplanes with his friends from the WV Fun Flyers Club, Leon, WV.
He was recognized by the governor for being the oldest active flyer in West Virginia. He was a truly remarkable man and will be greatly missed by all.
A funeral service will be held Friday, December 14 at 2:00 p.m. in the West Fork Community Building, Arnoldsburg, with the Rev. Ronald Rogers officiating.
Burial will be in the Minnora Cemetery, Minnora. Friends may call at the community building from 6-8 p.m. Thursday.
Online condolences may be expressed at taylorfuneralhomeinc.com
John H. Taylor Funeral Home, Spencer is in charge of arrangements.