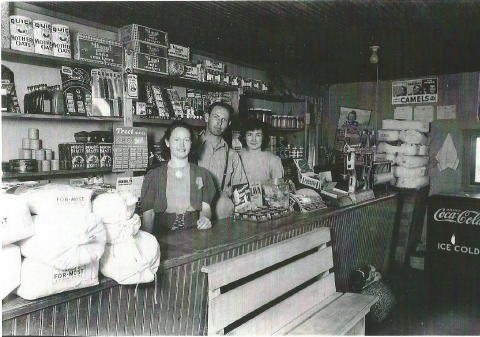 Lucy Oval Davisson, Oren Doddridge Davisson, Mildred Lee
(Midge) Shaffer Davisson 1941 - In the general store owned
by Oren & Midge at the Corder Bridge on Henry's Fork, in
Roane County at Calhoun line on US 33, a location where a number of beer parlors later erected (Shelia Meadows Photo)
Lucy Oval Davisson (1923-2011) was born at Minnora, the daughter of James Idon Davisson (1878-1958) and Arlie Ethel Rhinehart Davisson (1889-1949).
James Idon Davisson had three farms, Siers Run, Minnora, and the Corder Bridge. He was an oil field worker.
Lucy Oval Davisson attended both Spencer High School and Calhoun Co. High, and was one of ten children.
Lucy Oval Davisson married Oral Nichols of Calhoun in 1943.