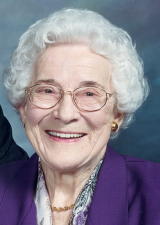 Laura Marie Norman of Beckley, formerly of Spencer, WV heard God calling so she took His hand and slowly drifted away on Thursday, November 22, 2012 at the age of 93.

She was preceded in death by her parents Cullie B. and Rosa Ester Hensley; her devoted husband of 73 years, Silas Paul Norman; her beloved daughter Joyce Ann Elmore of Spencer, WV; brothers, Darris Hensley, Dwight Hensley, Guy H. Hensley, Walter Hensley and Dayton Hensley of Roane County, WV.

Those left to cherish her memory are her son Stanley Paul Norman and wife Janet of Beckley, grandchildren, Phillip Norman and wife Michelle of Beckley, Amanda Norman Ford and husband Brian of Beckley, Darren Elmore of Spencer and Jane Ann Elmore of Myrtle Beach, SC; great grandchildren, Noah and Emma Grace Norman, Bryce and Kendall Ford of Beckley and Monica Ann Elmore of Spencer. She also leaves behind many nieces and nephews that she loved dearly.

Mrs. Norman was a homemaker who loved to cook for her family, church and community. She never turned a stranger away from her door hungry. She loved the Lord unconditionally and lived every day according to His word by loving her neighbor as herself. While living in Beckley, Mrs. Norman was a member of the Regular Baptist Church.

The family would especially like to thank Mrs. Norman's earthly angels for their love and special care given to her during this past year, Betty, Thelma, Lou, Veta, Heather and Bonnie.

Funeral Services will be conducted to celebrate the life of Marie Norman on Friday, November 30, 2012 at the Taylor-Vandale Funeral Home in Spencer, WV at 2:00 pm with her nephew the Rev. Homer Norman officiating. Friends may call at the funeral home at 1:00 pm.